Come Show Your Malvern Pride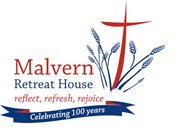 Come out and represent the Malvern Retreat House in the Annual Philadelphia St. Patrick's Day Parade!
DATE:  Sunday, March 11, 2011
9:30 AM. Phila. St. Patrick's Day Parade Mass (optional) St. Patrick's Church 20th & Locust Sts. Phila. PA 19103 (it's Daylight Savings time – turn your clocks ahead).
11:00 AM. – Malvern group meets at the North side of JFK Blvd. between 16th & 17th Streets
12:00 PM. Parade begins
PARADE ROUTE:
16th and JFK up the Benjamin Franklin Parkway to the Art Museum (1.2 miles)
DRESS:
Dress warmly and for outside weather. (No jeans, no inappropriate logos or messages)
Kilts, top hats, tuxedos are allowed.
Green if you have something, but not required.
NOTE!
The parade is a family event and is being televised live. Alcohol is prohibited.
Come show your Malvern pride.
For information and to sign up, contact Michael Norton at 484-321-2539 or mnorton@malvernretreat.com
Prosit,
Jim Fitzsimmons
President