Our 2023 Annual Six-Three Spiritual Retreat at Malvern is scheduled for:
June 16, 17 & 18, 2023
Retreat will be back to a regular schedule, starting  Friday evening, Saturday & Sunday morning, available in person or virtual.
2023 Dedication – Robert P. Colleluori

Each year our retreat committee dedicates our retreat to a faithfully departed former C.A. Captain. Our 2023 retreat will be dedicated Robert P. Colleluori (Bob) .Bob started making retreats with his father on Father's Day Weekend over 46 years ago and passed the tradition on to his sons Craig & Robert. He served as C.A. Captain and was one of our group's leading recruiters for many, many years. Bob was a dedicated Catholic and Man of Malvern until his passing last year at the age of 86. He will be greatly missed by the men of Six Three.
Our line up for Six-Three 2023: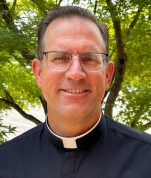 Fr Scott Reilly LC, Spiritual Guidance and Liturgy
Fr Scott Reilly LC is from Kankakee, IL. His parents, Gerald and Frances Reilly have just celebrated their 60th wedding anniversary. He has two sisters and one brother who is a Legionary priest, Fr Steven. In 1983-1984 he attended the Immaculate Conception Apostolic School in Center Harbor, NH. In September 1984, he entered the Novitiate in Cheshire, CT. He professed his first vows in Salamanca, Spain, and eventually made his perpetual profession on June 23, 1991. On December 24, 1997, he was ordained a priest for the Legionaries in Rome, Italy. He has earned a Bachelors in Philosophy from the University of St. Thomas Aquinas and Theology with the Legionaries of Christ. In 2019, he earned an M.A. in Theology of the New Evangelization from the Augustine Institute. As a priest, he served in Atlanta, Georgia, from 1997-2010 as Chaplain to Pinecrest Academy, Chaplain to St. Pius X Catholic High School, Regnum Christi, and nationally as the Territorial Director. From 2010-2015, he served in Houston, TX as the Regnum Christi Director, Adult formation in Regnum Christi, and President of Northwoods Catholic School. From 2015, he is currently serving in Philadelphia, PA, as the Regnum Christi Men's Section Director, Chaplain to the Lumen Institute (Philadelphia Chapter), and the Regnum Christi Director. He enjoys golf, tennis, hiking, fishing, movies, reading, and pastoral ministry.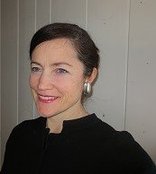 Christine Wittman – Guest Speaker, Catholic Therapist
A licensed therapist with over 20 years of experience working with teens, adults, couples, and families. She works with her patients to reach their most important goals through effective therapy that combines the truths of the Catholic faith with research-proven therapeutic methods.
She is also the host and co-producer of the show "Faith and Family Matter" which appeared on the Catholic Familyland channel.
Christine's articles have appeared in the Catholic Standard and Times, The Main Line Times, and the Catholic best-selling book "Amazing Grace for Married Couples".
She presents dynamic workshops and organizational development work for a variety of organizations including the Archdiocese of Philadelphia, and the dioceses of Allentown and Virginia, The Apostolate for Family Consecration in Ohio, The Malvern Retreat House, Walking with Purpose, and numerous Catholic schools and parishes.
Christine's transforming counseling sessions and presentations weave together stories, music, faith, and research-proven methods for replacing anger and resentment with compassionate, solution-focused responses that build close connected relationships.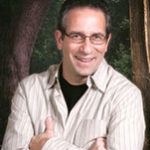 Speaker – Marty Rotella, musical leader
Marty Rotella is a singer, songwriter, evangelist who presents music and message to diverse audiences. He has presented the Gospel message of Jesus's love in forty-three states in addition to Australia, Europe, Central and South America and Canada. With over thirty years of ministry through teaching and motivational speaking, he has presented in churches, schools, conferences, and prisons.
As a three-time Grammy nominee, Marty integrates his gift of music with his unique preaching style to men, women, young adults and teens. Countless endorsements from bishops and clergy, religious, families and prison inmates comprise his repertoire. As a noted evangelist, Marty delivers a compelling message of Jesus' love, forgiveness and mercy to all who encounter him.
"Spirit Power" is his trademark platform for music and evangelization; bringing the fire of God's love to retreat houses, conferences, parishes and, most notably, to the streets.
2023 Retreat Schedule
DOWNLOAD
2023 TRADITIONAL RETREAT SCHEDULE 3.29.23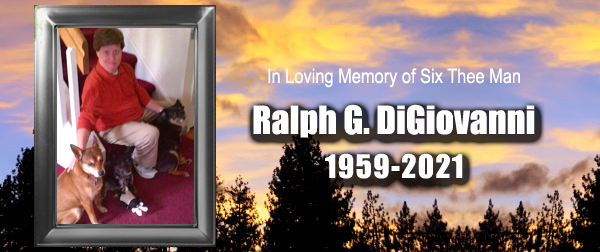 It is with great sadness that we inform you about the passing of our friend Ralph G. DiGiovanni. We ask you to keep Ralph and his family, in your prayers.
Ralph is a Six-Three man, 38 year reteatant at Malvern and brother of Six-Three Executive Committee member and former CA Captain Mark DiGiovanni. In 2019 Ralph served as Honorary CA Captain and has been a special friend to many Six Three men over the years.
Ralph has been suffering over the last couple years with progressive cognitive loss and was recently transported to hospice care. Sadly, we received word that he passed quietly last night, Wednesday, February 3, 2021,  shortly before midnight. We ask that his friends and fellow Six-Three men keep Ralph and the entire DiGiovanni family in your prayers during this difficult time.
Services for Ralph will consist only of a Funeral mass to be held at St. Mary Magdalen Church, 2400 N. Providence Rd., Media, Pennsylvania 19063 on Monday, February 8th at 11:00am.
This service will also be available via live stream from St. Mary's website: https://www.stmarymagdalen.net/live-stream
God Bless….Prosit,
Six Three Group
Executive Committee Members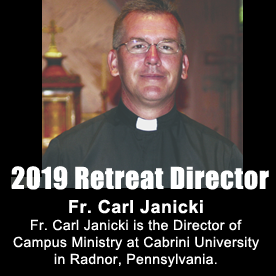 Fr. Carl Janicki is the Director of Campus Ministry at Cabrini University in Radnor, Pennsylvania. A priest for more than 20 years, he has also worked in ministry at Cardinal Dougherty High School. He served that community for 12 years as Campus Minister, then President, before moving on to his current position at Cabrini. Fr. Janicki represented Cabrini during the 2015 Papal visit to Philadelphia for the World Meeting of Families, at which he served in Media Relations, and provided "color" commentary during the Pope's Closing Mass on the Parkway for CBS 3, Philadelphia.
Learn about our 2019 Guest Speaker Kevin Reilly >>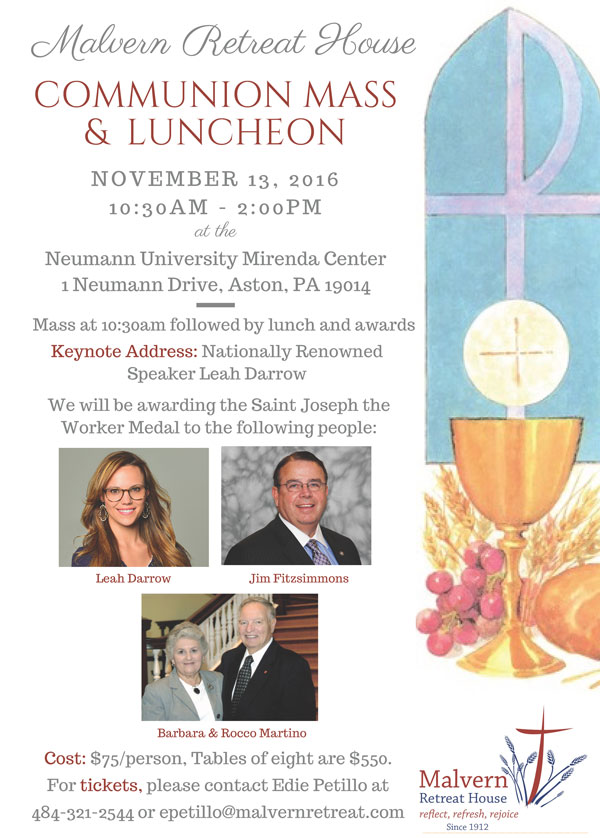 Our Communion Luncheon is being moved to Neumann University this year to accommodate an expected larger crowd for the Sunday, November 13 event. The luncheon will feature a 10:30am Mass followed by a keynote presentation by nationally known speaker Leah Darrow. She was a former contestant on America's Top Model and a New York City model, who turned her life around when she reverted back to her Catholic faith. She inspires both the young and old alike with her speeches on authentic love and faith.
She will be receiving the St. Joseph the Worker Award, along with former Malvern Retreat House President Jim Fitzsimmons and lifelong Catholic community volunteers Dr. Rocco & Barbara Martino. More information will be forthcoming.
For additional information about Sponsorship Opportunities, please contact Edie Petillo at 484-321-2544 or epetillo@malvernretreat.com.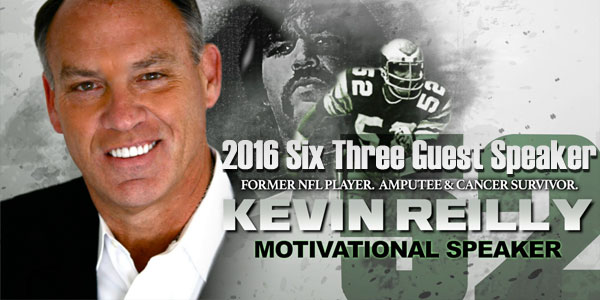 The Six Three Group would like to thank Kevin Reilly for visiting and sharing his life story with us. Many members of the group have contacted us with very positive comments regarding our Saturday afternoon guest speaker. Thank you Kevin for helping to make our 2016 retreat exceptional!
We encourage all Six Three Men to keep Kevin in your hearts and keep his powerful message in your thoughts. Also you can hear Kevin talk sports before and after every Eagles game on the Philadelphia Eagles Network. Click here to LISTEN LIVE!
– Eagles Radio – 94WIP ( 94.1FM) 1pm Game:
– Countdown to Kickoff Show – 10AM – 11AM
– Eagles Pre-Game Show – 11AM – 1PM
– Eagles Post Game Show – Follows game – 6PM
– Eagles 5th Quarter – 6PM – 7PM
We also encourage you to support his efforts by referring Kevin Reilly to speak to other groups with whom you are associated, so that they may witness the power of the Holy Spirit as we did on retreat this year. Visit Kevin's website for details.

Event Information
Date: Sunday | November 15, 2015
Time: 11:00 am
Location: Upper McShain Conference Center
Entrance B, 315 S. Warren Avenue Malvern, PA 19355
Contact: 484-321-2544
If you prefer to be seated with other members of your group, Six Three Group tables are now forming (by request).
Join us for our annual communion Mass and luncheon to honor this year's recipients of the St. Joseph the Worker Medal. Honorees will include Martie Gillin, a nationally acclaimed speaker, nonprofit leader and founder of SpeakUP; Bob Sims, a financial adviser and 65 year retreatant, friend and benefactor of Malvern Retreat House; Lou Baldwin, a renowned writer who is well known in the Archdiocese of Philadelphia and James F. Nolen III, builder and philanthropist.
This event is for both retreatants and friends.
Tickets
$50 individual
$400 – Table of Eight
Email about tickets: mail@malvernretreat.com

or call: 484-321-2544
Please see the sponsorship information below:
For additional information about Sponsorship Opportunities, contact Edie Petillo at 484-321-2544 or epetillo@malvernretreat.com
Sponsorship Opportunities
'$2,500 Founders Sponsor (Note: Tables sit a maximum of 8)
Company/Family name recognition – Inside front cover page ad (first in receives front cover)
8 tickets for Lunch
Company/Family name in Annual Report
$1,000 Prosit Sponsor
Company/Family name recognition – Inside back cover page ad (first in receives back cover)
6 tickets for Lunch
Company/Family name in Annual Report
$500 Ferreck Sponsor
Full page ad
4 tickets for Lunch
Company/Family name in the Annual Report
$250 Sullivan Sponsor (Ideal for retreat group sponsorships)
Half page ad
2 tickets for Lunch
Company/family name in the Annual Report
$100 Cabrey Sponsor
Quarter page ad
Company/family name in the Annual Report

We are happy to announce that we have booked a very special dynamic and inspiring guest speaker for our 2014 Six Three Group retreat! Gary Zimak is an Catholic Evangelist, Author, Radio Host and popular Catholic speaker. Gary is a regular guest on EWTN and hosts his own show Following The Truth on BlogTalkRadio Monday – Friday at 8PM Eastern.
We are excited to have Gary on retreat with us this year and look forward to him supplementing our spiritual retreat with his unique perspective and insights.
Register today to see Gary on our Annual Six Three Retreat June 13 through 15, 2014
Here is a little more about Gary
If you would like to learn more about Gary Zimak, please read "his story" below or visit his website to find out everything Gary is working on. www.followingthetruth.com
Gary's Story
In 2008, Gary Zimak was working as a project analyst when he felt the call to form Following The Truth, an apostolate dedicated to teaching the truths of the Catholic Faith. Initially performing his work for the Lord on a part time basis, Gary had a life changing experience in 2011 when he consecrated his life to Jesus through Mary. A few months later, he became a FULL TIME Catholic lay evangelist!
Using a combination of radio, writing, social media and live talks, Gary puts his communications skills to work for the Lord and His Church. The author of the best-selling book "A Worrier's Guide To The Bible", Gary is well known as an authority on the art of combating anxiety by establishing a deeper relationship with Christ. His second book "Listen To Your Blessed Mother" focuses on Mary's words in Sacred Scripture and is receiving a great deal of attention. Gary hosts a daily radio show on BlogTalkRadio and is a regular guest on Catholic Answers Live, EWTN's The Son Rise Morning Show and Catholic Connection with Teresa Tomeo and Relevant Radio's Morning Air. Additionally, he is a frequent guest on numerous other Catholic radio shows. Gary is a member of Catholics United for the Faith, the Knights of Columbus and The Catholic Radio Association and resides in New Jersey (just over the bridge from Philly) with his wife Eileen and twin daughters, Mary and Elizabeth. He is an instructor for RCIA (Rite of Christian Initiation of Adults) at Sacred Heart Parish in Riverton, NJ, a member of the leadership team for the men's group That Man Is You! at Corpus Christi Parish in Willingboro, NJ and the chaplain for the Catholic Business Network of South Jersey.
Adhering to the principle of the "2 S's" (Simple and Substantial), Gary Zimak presents the authentic teaching of the Catholic Church in a way that can be understood by the ordinary "person in the pew"! Having been a Catholic who "went through the motions" for most of his life, Gary understands the importance of getting to know Jesus Christ and the teachings of His Church. He can assist you in achieving the peace that can only be found by having a personal relationship with the Lord!
This event is complete but we have left this page active for reference.
Visit the 2014 Wrap Up page for more about our 2014 retreat
———————————————————————————-
We are pleased to announce that our 93nd Annual SixThree Spiritual Retreat at Malvern is scheduled for June 13-14-15, 2014.
Our goal this year is to continue to incrementally improve the spiritual quality of the SixThree retreat experience and begin a trend of growing the number of annual retreatants for years to come. This year we are planning an exciting retreat which includes:
C.A. Captain for 2014: Dr. Stephen Humbert
Retreat Director St. Joseph's Hall:  Fr. Michael Shea, C.M.
Retreat Director Our Lady's Hall:  Fr. John Corbet. O.P.
Our 2014 Annual Six-Three Spiritual Retreat at Malvern is scheduled for:
June 13, 14 & 15, 2014
Suggested good will offering is $235
Six-Three Men please join us at this year's communion Mass and Luncheon. Our very own Joe O'Donnell is scheduled to be honored with the presentation of the St. Joseph the Worker Medal in recognition of his life-long committment and dedicated leadership to the advancement of the retreat apostolate at Malvern.
We invite you to join us for our Eucharistic Celebration and Luncheon with the Men and Women of Malvern.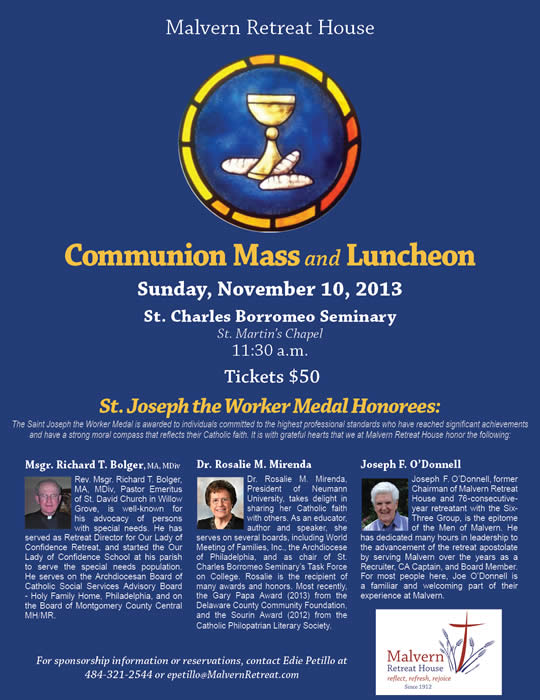 Highlights:
 The Installation of our New Retreat Captains:
Armando Moral                   Ss. Peter & Paul Group
Denis Reilly                          PECO-Good Shepherd Group
Joseph Pagano                     Sons of Italy Group
Michael McCarthy               Most Blessed Sacrament Group
Dr. Stephen Humbert         Six-Three Group
Dr. Russell & Gina Montalbano               Our Lady of the Rosary Family Group
Robert E. Casper                  Our Lady Queen of Peace Group
Andrew Bryan Woratyla     L.J. Ferdinand – Hazleton Group
Marguerite D. DiLolle         Our Lady of Peace Group
Philip Nicolo                         Our Lady of the Sacred Heart Group
St. Joseph the Worker Medal Honorees:
We honor three recipients of our St. Joseph the Worker Medal for their spiritual guidance, professional accomplishments, and continued loyalty to Malvern Retreat House and the community:
Msgr. Richard T. Bolger, MA, MDiv
Pastor Emeritus of St. David Church in Willow Grove
Dr. Rosalie M. Mirenda
President of Neumann University
Joseph F. O'Donnell
Joseph F. O'Donnell, former Chairman of Malvern Retreat House and 76-consecutive-year retreatant with the Six-Three Group
Cost: $50 per person
 Sponsorship opportunities are also available!
Click here to view this event's flyer.
To make your reservations and/or provide sponsorship opportunities, contact Edie Petillo at 484-321-2544 or at
EPetillo@MalvernRetreat.com
.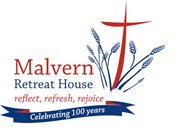 Come out and represent the Malvern Retreat House in the Annual Philadelphia St. Patrick's Day Parade!
DATE:  Sunday, March 11, 2011
9:30 AM. Phila. St. Patrick's Day Parade Mass (optional) St. Patrick's Church 20th & Locust Sts. Phila. PA 19103 (it's Daylight Savings time – turn your clocks ahead).
11:00 AM. – Malvern group meets at the North side of JFK Blvd. between 16th & 17th Streets
12:00 PM. Parade begins
PARADE ROUTE:
16th and JFK up the Benjamin Franklin Parkway to the Art Museum (1.2 miles)
DRESS:
Dress warmly and for outside weather. (No jeans, no inappropriate logos or messages)
Kilts, top hats, tuxedos are allowed.
Green if you have something, but not required.
NOTE!
The parade is a family event and is being televised live. Alcohol is prohibited.
Come show your Malvern pride.
For information and to sign up, contact Michael Norton at 484-321-2539 or mnorton@malvernretreat.com
Prosit,
Jim Fitzsimmons
President