Our 2022 Annual Six-Three Spiritual Retreat at Malvern is scheduled for:
June 17, 18 & 19, 2022
Retreat will be back to a regular schedule, starting  Friday evening, Saturday & Sunday morning, available in person or virtual.
2022 marks the

100 Year Anniversary

of the Six Three Retreat Group at Malvern!
Select more videos from our 2022 Guest Speaker lineup from the playlist. The playlist is located in the upper right corner of the video player  (below)    =
This year the Six-Three group celebrates 100 years of retreats with a new and improved format that includes liturgical services and spiritual guidance by our rector, Father Jim McGuinn. In addition, to Fr. McGuinn We have arranged a line up of FOUR GUEST SPEAKERS that are sure to help you deepen your relationship with God and find peace and healing in the challenges of daily life.
Our line up for Six-Three 2022: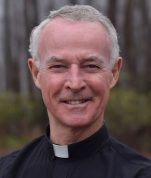 Father Jim Mc Guinn – Rector, Spiritual Guidance and Liturgy
Father Jim is the Son of Eddie and Mary Mc Guinn, both of whom were born in Ireland.  He has one brother, three sisters, and lots of nieces and nephews.  He grew up in Philadelphia, went to college in Massachusetts, and lived for a year in a monastery in Pittsburgh.  He attended St. Charles Borromeo seminary in Wynnewood, PA. and was ordained a priest for the Archdiocese of Philadelphia in 1988.  He has been a parochial vicar, a high school teacher and chaplain, the director of the Newman ministries at two universities and a pastor.  He is the author and founder of CONNECTIONS, which is a new process that inspires and equips Catholics to grow in their faith and be fully devoted disciples of Jesus Christ.  He loves Catholic evangelization, helping parishes achieve their redemptive potential, and forming leaders.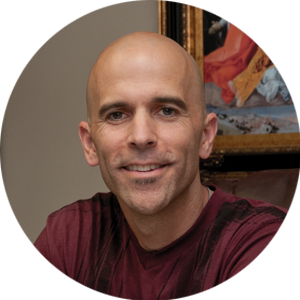 Rob Longo – Friday Evening,  Stewardship, A Mission Of Faith
Rob and his wife Megan are blessed to have five awesome kids ranging from 19 to 10 years old. After 33 years of checking the box when it came to his faith, Rob surrendered his life to the Lord on December 31, 2003.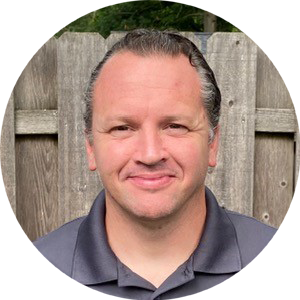 Luke LeTourneau – Saturday Morning, Stewardship, A Mission Of Faith
Born and raised in Springfield, PA, Luke for many years was going through motions of his Catholic faith and just "showing up" at best. It was not until the Holy Spirit went to work on him during a year long process that Luke had a strong reversion back to the Catholic faith, culminating with his miraculous healing of alcohol addiction.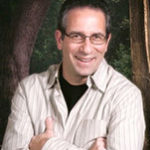 Saturday Afternoon – Marty Rotella, evangelizing through music
A Grammy-nominated musician, Marty integrates his gift of music with his unique preaching style for men, women, young adults and teens. He has countless endorsements from bishops and clergy, religious, families and prison inmates. As a noted evangelist, Marty delivers a compelling message of Jesus' love, forgiveness and mercy to all who encounter him.
Kevin Reilly – Saturday Evening,  Tackling Life
Thanks to a fortunate scheduling change, we managed to convince an old friend of Six Three, Kevin Reilly to come back and speak to the group again. After the release of his 2017 book Tackling Life and other recent milestones, Kevin has lots more to share in a fresh new talk about in his spiritual journey.
Due to an unfortunate schedule change Mr. Klecko was forced to cancel his speaking engagement for our 2019 Six Three Group retreat. We have secured an old friend of Six Three, Former Philadelphia Eagle, Kevin Reilly who is fresh off the release of his 2017 book "Tackling Life". Kevin spoke at our 2016 retreat and will come with a fresh new look at his spiritual journey that includes discussion about his most recent successes and relationships. READ MORE about Kevin Reilly.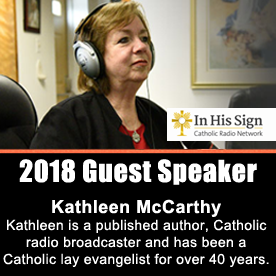 Kathleen McCarthy is a published author, Catholic radio broadcaster and has been a Catholic lay evangelist for almost 40 years. Her message of the Father's merciful love, the Real Presence in the Holy Eucharist, and the power of the Holy Spirit are central to the doctrines of the Catholic Church.
Kathleen has traveled across the country and internationally as a sought after conference speaker and facilitates workshops, days of renewal and parish retreats. Kathleen has been involved in healing ministry for over four decades. She has the gift of storytelling that readily touches the hearts of all individuals. Her willingness to share her faith and wisdom has established her as a dynamic instrument for proclaiming God's word to both believers and inactive Catholics of all ages.
Kathleen has experienced the death of a husband, loss of a house through fire, personal and family illness and loss. Through it all, her uncompromising love of God and faith in His love for her has been her source of strength in weakness and her light in darkness. She is a gifted speaker who shares with enthusiasm and motivates many hearts to experience the living God.
Read about our 2018 Retreat Director –>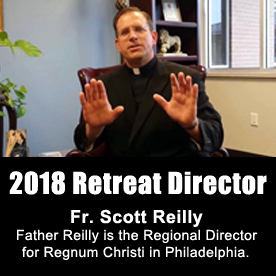 FATHER SCOTT REILLY, LEGIONARY OF CHRIST, REGIONAL DIRECTOR PHILADELPHIA
?Fr Scott is from Kankakee, IL but later moved to St. Petersburg, FL. He has two sisters and one brother, who is a priest as well in the Legionaries of Christ. In 1983 he joined Immaculate Conception Apostolic School of the Legionaries of Christ located in Center Harbor, NH graduating in 1984. He has studied abroad in Salamanca, Spain for 2 years and in Rome, Italy where he earned a Bachelors in Philosophy from the University of St. Thomas Aquinas and Theology with the Legionaries Christ. He was ordained to the priesthood on December 24, 1997 and served as chaplain at Pinecrest Catholic Academy Cumming, GA from 1997-1999. From 1999-2005 he served as chaplain at St. Pius X Catholic High School in Atlanta, GA. Between 2005-2010 he served as Territorial Director for the Legionaries in the USA. From 2010-2015 he served in Houston as superior for the Legionary community and held different responsibilities: 2010-2013 President of the Board for Northwoods Catholic School, 2013-2014 he served as President for Northwoods Catholic School, 2014-2015 chaplain for Regnum Christi in Houston. Presently he is the Regnum Christi Local Director chaplain to the Regnum Christi Movement in the Philadelphia locality. He enjoys, golf, tennis, hiking, working out and reading. Scott Reilly LC Bio here along with contact information.
Read about our 2018 Guest Speaker Kathleen McCarthy –>
Listen To Father Scott Reilly on Soundcloud
This week Father discusses how Paul explains the beauty of God; that Jesus reveals to us a beautiful God through a humble human existence and ultimately through the Crucifixion. Our God is a giving God.
Gentlemen, we want to share with you the results of our 2017 post-retreat survey. As you know, the Six Three Group has been working hard and leading the way to improve the retreat experience across all Malvern Weekend retreats. Our primary focus in this effort has been on improving the quality of the spiritual guidance and message by inviting high quality retreat directors and special guest speakers. We judging from the survey results below, we think that most will agree that our 2017 retreat was very successful in moving us toward our goals. In particular, the response to Fr. Guckin and Miriam Horrocks and Paul Isenberg was very positive.
Please take a moment to review our 2017 survey results and feel free to leave a comment.
2017 Six Three Group Survey Results
Number of Attendees: 207
Number of Responses: 130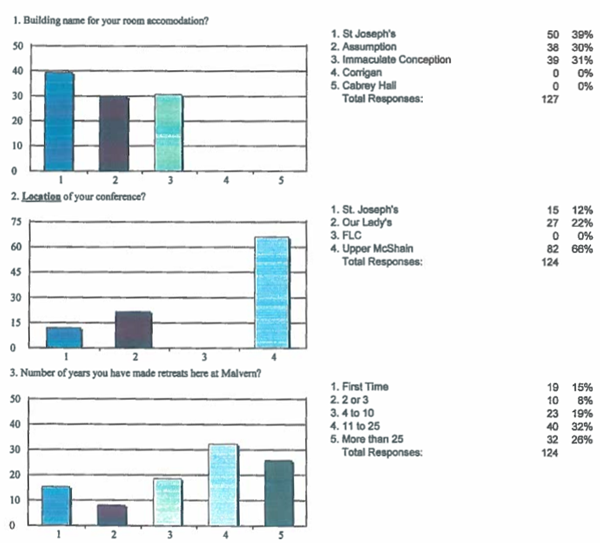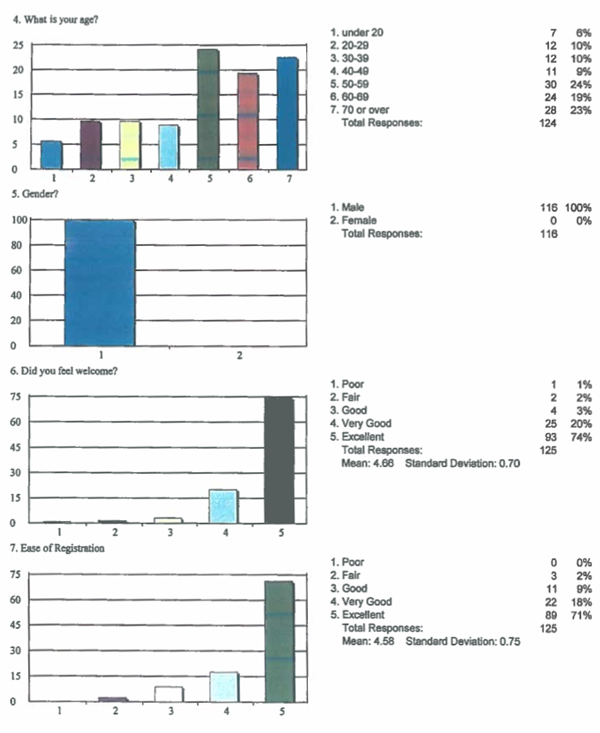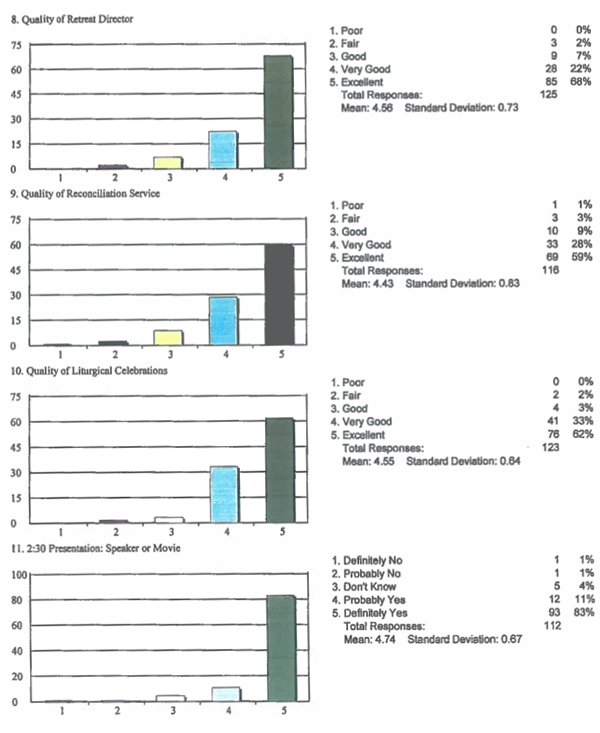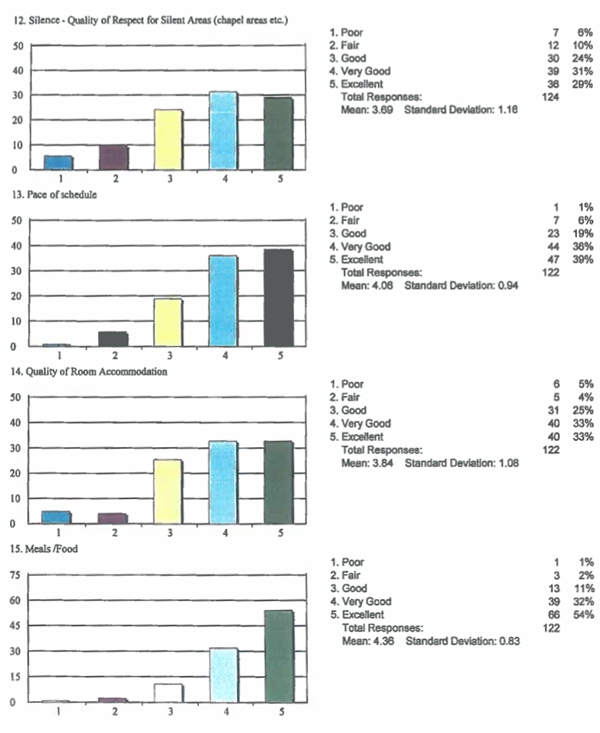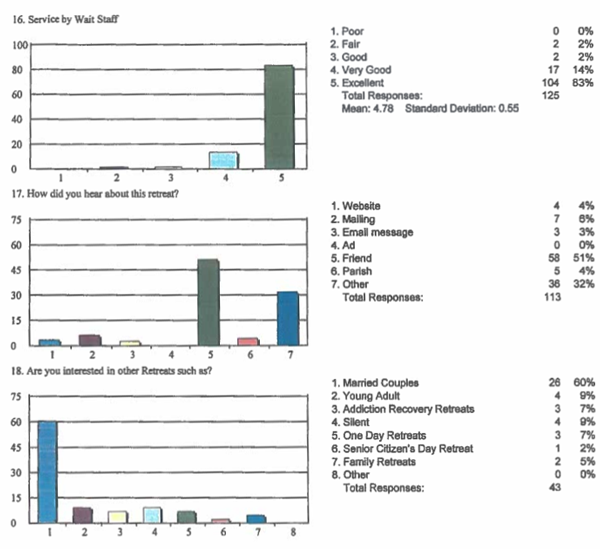 Father Matt ranks very high on our list of awesome Retreat Directors and it was great having him our for our 2017 Six Three Group Retreat. Recently Fr. Matt started a Soundcloud feed so you can get a steady diet for spiritual enlightenment by listening to Father's weekly sermons.
To receive notifications each time Fr. Matt posts a new track, click the follow button below to follow Fr. Matt on your Soundcloud account.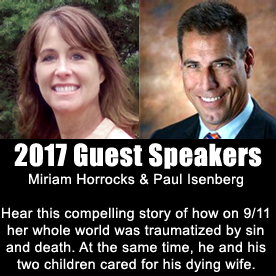 The Six Three Group would like to extend our gratitude to Miriam Horrocks and Paul Isenberg ("Ice" LOL) for sharing their powerful message of love with us on our 2017 Six Three Group Retreat! It is by your example we are brought closer to the calling of our Lord. God bless both of you, your beautiful family and may souls of Michael and Nichole rest in peace. We will keep you all in our prayers.
——————————–
On 9/11 our whole world was traumatized by sin and death. When Michael Horrocks' plane crashed into the second tower, his wife Miriam and her two small children suffered in shock. At the same time Paul and his two children cared for his wife who was dying of cancer. We will listen as Miriam and Paul witness how their faith in Jesus Christ offered them the miracle of hope and healing. Just as Jesus offered hope and healing by raising his friend Lazarus from the tomb of death, Miriam and Paul  experienced the grace of God to help them live and love again.
Read about our 2017 Retreat Director –>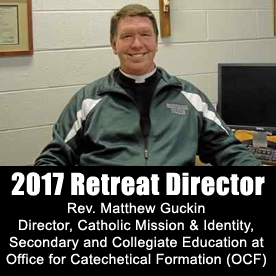 The Six Three Group would like to extend our gratitude for the spiritual guidance and enlightenment provided by Fr. Guckin during our 2017 retreat. Father's willingness to engage the Six Three group throughout the entire weekend was very refreshing. Starting with an inspirational introduction and blessing at our Friday evening meal and extending through to his final homily at Sunday Mass, Father Guckin worked to reinforce the spiritual message of our retreat. Most impressive, and not overlooked, was that Father attended our guest speaker session on Saturday, and tied the message of Paul and Miriam back to our message of living the Abundant Life overflowing with Jesus.
Thank you Father Matt for an outstanding retreat that will remain in our hearts and minds for years to come. God Bless you and we thank the Lord for bringing you to our retreat.
——————————————–
Rev. Matt Guckin is a graduate of Father Judge High School and Penn State University. He worked as a Consultant to the Transportation Industry for Manugistics, Inc., outside of Washington D.C. and in Strategic Planning for Rite Aid Corporation in Camp Hill, PA. He entered the Seminary in 1992 and was ordained a Catholic priest in 1999. He was assistant pastor at St. Cecilia's parish in Philadelphia and chaplain at Fox Chase Cancer Center. He has been an educator and chaplain at Bishop Shanahan High School in Downingtown, Pennsylvania.
He currently serves as Director of Catholic Mission and Identity for Universities and High Schools in the Archdiocese of Philadelphia.
Read about our 2017 Guest Speakers –>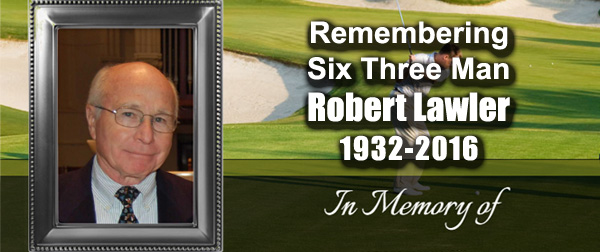 Relatives and friends are invited to call Sunday, December 18, 2016 from 2:00 to 4:00PM at the Louis Swift Plunkett Funeral Home, 529 N. York Road, Hatboro. A Mass of Christian Burial will be held on Monday, December 19, 2016 at 10:00 AM at Nativity of Our Lord Church, 605 W. Street Road, Warminster. Interment will follow at St. John Neumann Cemetery, 3797 County Line Road, Chalfont.
Robert L. Lawler, Sr., of Warminster, died peacefully in his sleep on Tuesday, December 13, 2016 at Abington Hospice in Warminster. He was 84 years old.
Born in Croydon, PA, Bob was the son of the late John J. and Louise (nee Leuschel) Lawler. Bob was an active volunteer and parishioner of Nativity of Our Lord Church since 1962. Bob was happiest watching his children's, and later, his grandchildren's activities and sports. He enjoyed traveling but he also treasured his time spent at the Jersey shore with family and friends. In addition to playing golf, he spent many years on the Chesapeake Bay aboard his boat, the Glory Daze. He spent the last several years working part-time and spending time with his grandchildren, who brought him great joy.
Bob graduated Villanova University with honors in 1960 with an undergraduate degree in electrical engineering. In 1965, Bob graduated Drexel University with a Masters in Electrical Engineering, also with honors. He was employed by Univac and then Leeds & Northrup until his retirement in 1994.
Bob was a proud veteran having served in the United States Navy from 1952 to 1956. Bob is survived by his beloved wife of 58 years Jane M. Lawler (nee Whelan). He was the devoted father of Robert L. Lawler, Jr. (Carmen), Jeanne Frank (Brian) and Maureen Vandergeest (Joseph). He was the loving grandfather of Meilyn, Joey, Kate and Analei. Bob is also survived by his sister, Louise Hurst. He was preceded in death by his brother, John J. Lawler, Jr.
Relatives and friends are invited to call Sunday, December 18, 2016 from 2:00 to 4:00PM at the Louis Swift Plunkett Funeral Home, 529 N. York Road, Hatboro. A Mass of Christian Burial will be held on Monday, December 19, 2016 at 10:00 AM at Nativity of Our Lord Church, 605 W. Street Road, Warminster. Interment will follow at St. John Neumann Cemetery, 3797 County Line Road, Chalfont.
In lieu of flowers, donations can be made in his name to Nativity of Our Lord School, "Sponsor a Student Program", 605 W. Street Road, Warminster, PA 18974 or to the charity of your choice.