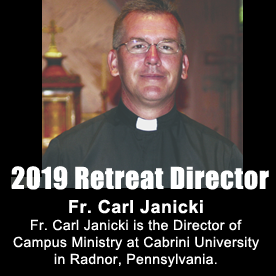 Fr. Carl Janicki is the Director of Campus Ministry at Cabrini University in Radnor, Pennsylvania. A priest for more than 20 years, he has also worked in ministry at Cardinal Dougherty High School. He served that community for 12 years as Campus Minister, then President, before moving on to his current position at Cabrini. Fr. Janicki represented Cabrini during the 2015 Papal visit to Philadelphia for the World Meeting of Families, at which he served in Media Relations, and provided "color" commentary during the Pope's Closing Mass on the Parkway for CBS 3, Philadelphia.
Learn about our 2019 Guest Speaker Kevin Reilly >>
Due to an unfortunate schedule change Mr. Klecko was forced to cancel his speaking engagement for our 2019 Six Three Group retreat. We have secured an old friend of Six Three, Former Philadelphia Eagle, Kevin Reilly who is fresh off the release of his 2017 book "Tackling Life". Kevin spoke at our 2016 retreat and will come with a fresh new look at his spiritual journey that includes discussion about his most recent successes and relationships. READ MORE about Kevin Reilly.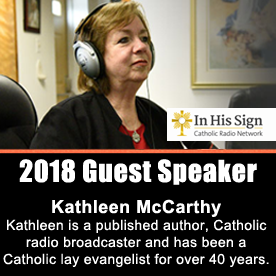 Kathleen McCarthy is a published author, Catholic radio broadcaster and has been a Catholic lay evangelist for almost 40 years. Her message of the Father's merciful love, the Real Presence in the Holy Eucharist, and the power of the Holy Spirit are central to the doctrines of the Catholic Church.
Kathleen has traveled across the country and internationally as a sought after conference speaker and facilitates workshops, days of renewal and parish retreats. Kathleen has been involved in healing ministry for over four decades. She has the gift of storytelling that readily touches the hearts of all individuals. Her willingness to share her faith and wisdom has established her as a dynamic instrument for proclaiming God's word to both believers and inactive Catholics of all ages.
Kathleen has experienced the death of a husband, loss of a house through fire, personal and family illness and loss. Through it all, her uncompromising love of God and faith in His love for her has been her source of strength in weakness and her light in darkness. She is a gifted speaker who shares with enthusiasm and motivates many hearts to experience the living God.
Read about our 2018 Retreat Director –>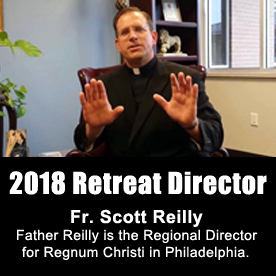 FATHER SCOTT REILLY, LEGIONARY OF CHRIST, REGIONAL DIRECTOR PHILADELPHIA
?Fr Scott is from Kankakee, IL but later moved to St. Petersburg, FL. He has two sisters and one brother, who is a priest as well in the Legionaries of Christ. In 1983 he joined Immaculate Conception Apostolic School of the Legionaries of Christ located in Center Harbor, NH graduating in 1984. He has studied abroad in Salamanca, Spain for 2 years and in Rome, Italy where he earned a Bachelors in Philosophy from the University of St. Thomas Aquinas and Theology with the Legionaries Christ. He was ordained to the priesthood on December 24, 1997 and served as chaplain at Pinecrest Catholic Academy Cumming, GA from 1997-1999. From 1999-2005 he served as chaplain at St. Pius X Catholic High School in Atlanta, GA. Between 2005-2010 he served as Territorial Director for the Legionaries in the USA. From 2010-2015 he served in Houston as superior for the Legionary community and held different responsibilities: 2010-2013 President of the Board for Northwoods Catholic School, 2013-2014 he served as President for Northwoods Catholic School, 2014-2015 chaplain for Regnum Christi in Houston. Presently he is the Regnum Christi Local Director chaplain to the Regnum Christi Movement in the Philadelphia locality. He enjoys, golf, tennis, hiking, working out and reading. Scott Reilly LC Bio here along with contact information.
Read about our 2018 Guest Speaker Kathleen McCarthy –>
Listen To Father Scott Reilly on Soundcloud
Gentlemen, we want to share with you the results of our 2017 post-retreat survey. As you know, the Six Three Group has been working hard and leading the way to improve the retreat experience across all Malvern Weekend retreats. Our primary focus in this effort has been on improving the quality of the spiritual guidance and message by inviting high quality retreat directors and special guest speakers. We judging from the survey results below, we think that most will agree that our 2017 retreat was very successful in moving us toward our goals. In particular, the response to Fr. Guckin and Miriam Horrocks and Paul Isenberg was very positive.
Please take a moment to review our 2017 survey results and feel free to leave a comment.
2017 Six Three Group Survey Results
Number of Attendees: 207
Number of Responses: 130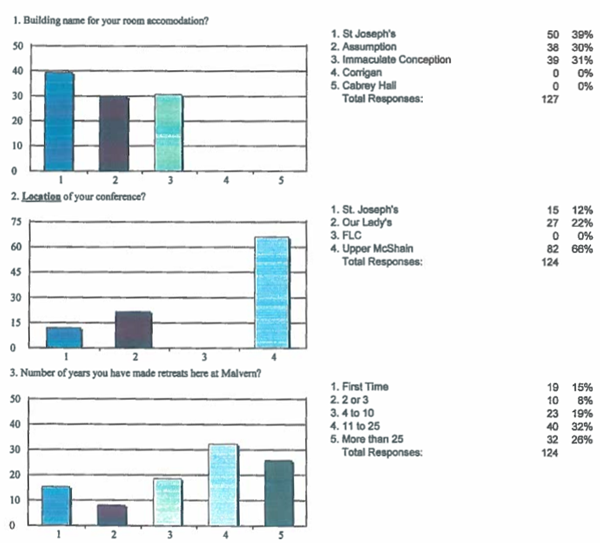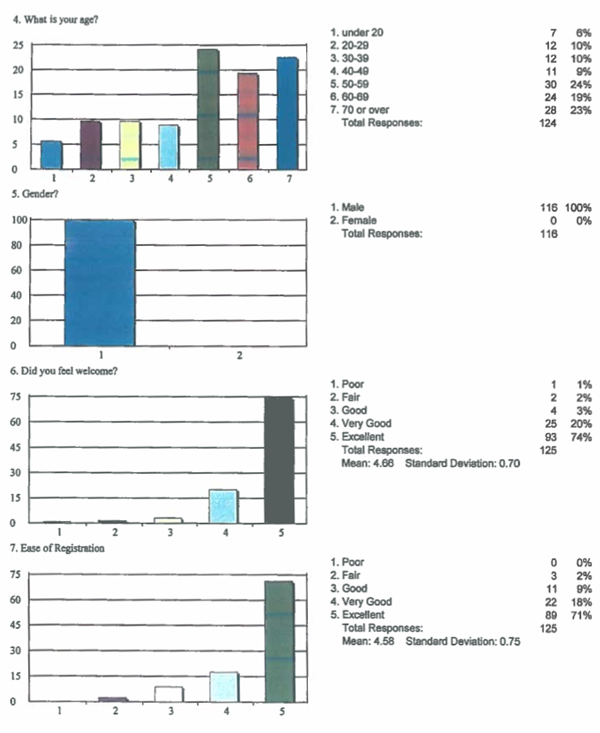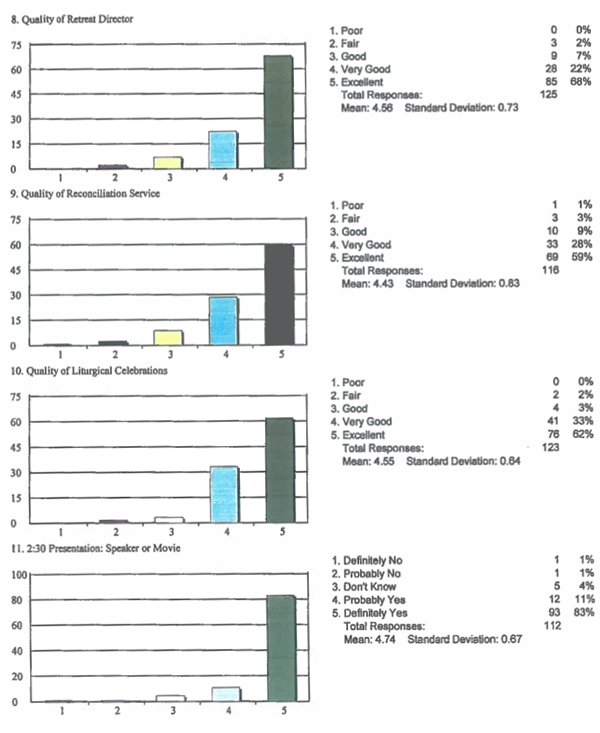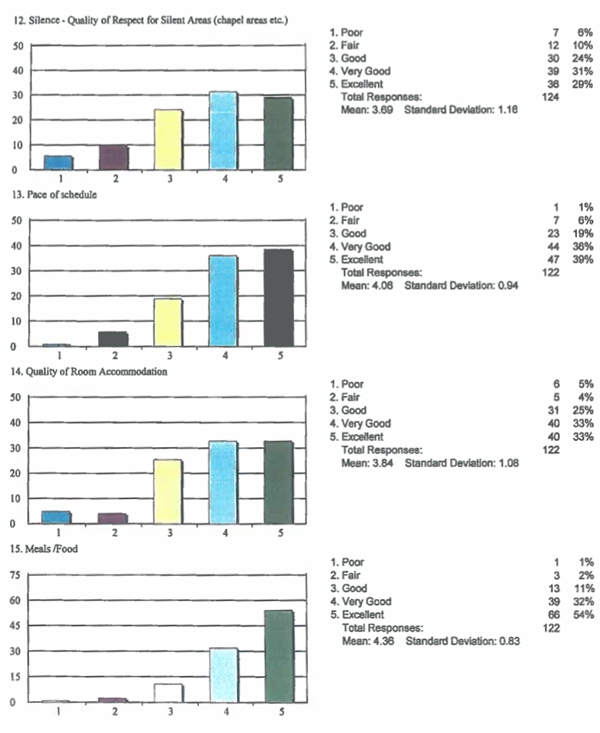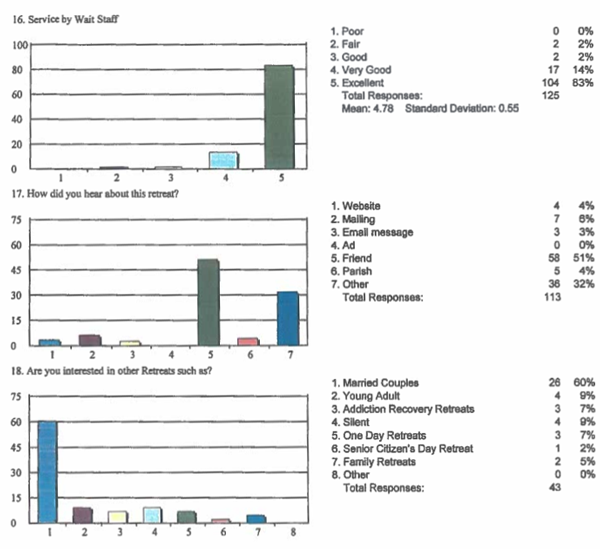 Men, over the last few years we have been working with Malvern to improve the weekend retreat schedule. The goal of this effort has been to improve the retreat experience by providing more time for personal reflection, and to relocate certain activities for better liturgical synergy, and convenience. Note that much care has been given to proceed in a conservative manner so as to minimize the impact to the long standing traditions and faith rituals that have endured for over a century at Malvern. All proposed changes are carefully considered and tested before full implementation is considered. In recent years you may have heard our leadership team make reference to "Pilot Groups". The pilot group initiative was established by the Six Three Group Retreat Committee and has provided a testing ground for new approaches to delivering an enhanced retreat experience at Malvern. We are proud of the results as our post retreat reviews indicate that the process has been successful at improving the retreat experience year after year. We encourage your continued input so that your preferences are considered when modifications are presented for consideration. Below you will find a link to the improved 2017 Pilot Group Retreat Schedule. Feel free to leave a comment on the page.
Click here to review the new schedule:
2017 Pilot Group Retreat Schedule
Finally, remember to share thee Six Three Group retreat experience with a man.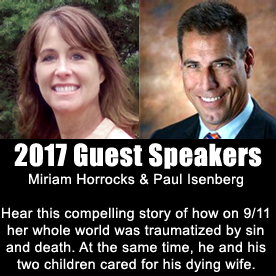 The Six Three Group would like to extend our gratitude to Miriam Horrocks and Paul Isenberg ("Ice" LOL) for sharing their powerful message of love with us on our 2017 Six Three Group Retreat! It is by your example we are brought closer to the calling of our Lord. God bless both of you, your beautiful family and may souls of Michael and Nichole rest in peace. We will keep you all in our prayers.
——————————–
On 9/11 our whole world was traumatized by sin and death. When Michael Horrocks' plane crashed into the second tower, his wife Miriam and her two small children suffered in shock. At the same time Paul and his two children cared for his wife who was dying of cancer. We will listen as Miriam and Paul witness how their faith in Jesus Christ offered them the miracle of hope and healing. Just as Jesus offered hope and healing by raising his friend Lazarus from the tomb of death, Miriam and Paul  experienced the grace of God to help them live and love again.
Read about our 2017 Retreat Director –>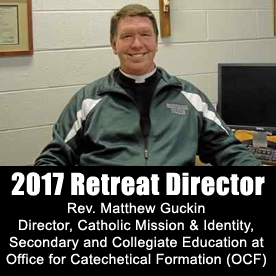 The Six Three Group would like to extend our gratitude for the spiritual guidance and enlightenment provided by Fr. Guckin during our 2017 retreat. Father's willingness to engage the Six Three group throughout the entire weekend was very refreshing. Starting with an inspirational introduction and blessing at our Friday evening meal and extending through to his final homily at Sunday Mass, Father Guckin worked to reinforce the spiritual message of our retreat. Most impressive, and not overlooked, was that Father attended our guest speaker session on Saturday, and tied the message of Paul and Miriam back to our message of living the Abundant Life overflowing with Jesus.
Thank you Father Matt for an outstanding retreat that will remain in our hearts and minds for years to come. God Bless you and we thank the Lord for bringing you to our retreat.
——————————————–
Rev. Matt Guckin is a graduate of Father Judge High School and Penn State University. He worked as a Consultant to the Transportation Industry for Manugistics, Inc., outside of Washington D.C. and in Strategic Planning for Rite Aid Corporation in Camp Hill, PA. He entered the Seminary in 1992 and was ordained a Catholic priest in 1999. He was assistant pastor at St. Cecilia's parish in Philadelphia and chaplain at Fox Chase Cancer Center. He has been an educator and chaplain at Bishop Shanahan High School in Downingtown, Pennsylvania.
He currently serves as Director of Catholic Mission and Identity for Universities and High Schools in the Archdiocese of Philadelphia.
Read about our 2017 Guest Speakers –>
The Six Three Group at Malvern would like to offer a special thank you to Father Joseph Corley, the pastor at B.V.M Parish for leading us spiritually on our 2016 retreat. Father's pleasant nature, whit and kindness is out shined only by his insight and devotion to Jesus Christ and his vocation. The men of Six Three are very thankful for the opportunity to have received the guidance of Fr. Corley as we made our retreat. We encourage all of our members to reflect on the spiritual inspiration he provided and to remember Fr. Corely in our prayers.
Whant to know what Fr. Corley is up to? Visit his website at http://www.bvm-darby.com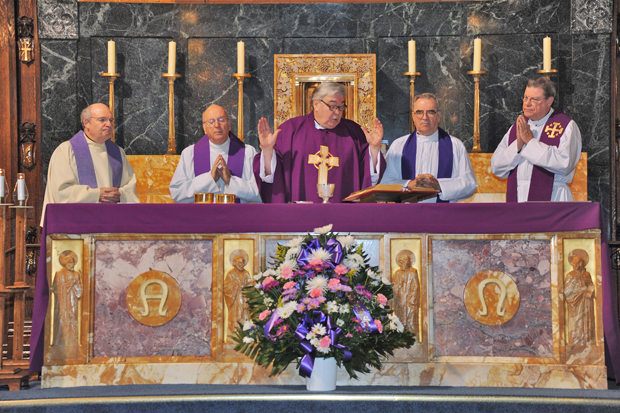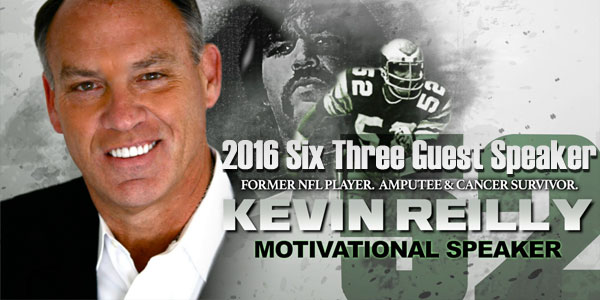 The Six Three Group would like to thank Kevin Reilly for visiting and sharing his life story with us. Many members of the group have contacted us with very positive comments regarding our Saturday afternoon guest speaker. Thank you Kevin for helping to make our 2016 retreat exceptional!
We encourage all Six Three Men to keep Kevin in your hearts and keep his powerful message in your thoughts. Also you can hear Kevin talk sports before and after every Eagles game on the Philadelphia Eagles Network. Click here to LISTEN LIVE!
– Eagles Radio – 94WIP ( 94.1FM) 1pm Game:
– Countdown to Kickoff Show – 10AM – 11AM
– Eagles Pre-Game Show – 11AM – 1PM
– Eagles Post Game Show – Follows game – 6PM
– Eagles 5th Quarter – 6PM – 7PM
We also encourage you to support his efforts by referring Kevin Reilly to speak to other groups with whom you are associated, so that they may witness the power of the Holy Spirit as we did on retreat this year. Visit Kevin's website for details.