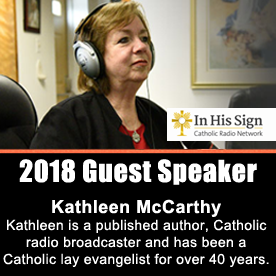 Kathleen McCarthy is a published author, Catholic radio broadcaster and has been a Catholic lay evangelist for almost 40 years. Her message of the Father's merciful love, the Real Presence in the Holy Eucharist, and the power of the Holy Spirit are central to the doctrines of the Catholic Church.
Kathleen has traveled across the country and internationally as a sought after conference speaker and facilitates workshops, days of renewal and parish retreats. Kathleen has been involved in healing ministry for over four decades. She has the gift of storytelling that readily touches the hearts of all individuals. Her willingness to share her faith and wisdom has established her as a dynamic instrument for proclaiming God's word to both believers and inactive Catholics of all ages.
Kathleen has experienced the death of a husband, loss of a house through fire, personal and family illness and loss. Through it all, her uncompromising love of God and faith in His love for her has been her source of strength in weakness and her light in darkness. She is a gifted speaker who shares with enthusiasm and motivates many hearts to experience the living God.
Read about our 2018 Retreat Director –>
SEPTEMBER 17, 2017
ALLELUIA
I give you a new commandment, says the Lord:
Love one another as I have loved you.
ALLELUIA
A reading from the holy Gospel according to St. Matthew 18: 21-35
… Lord, if my brother sins against me, how often must I forgive?
Father Matt ranks very high on our list of awesome Retreat Directors and it was great having him our for our 2017 Six Three Group Retreat. Recently Fr. Matt started a Soundcloud feed so you can get a steady diet for spiritual enlightenment by listening to Father's weekly sermons.
To receive notifications each time Fr. Matt posts a new track, click the follow button below to follow Fr. Matt on your Soundcloud account.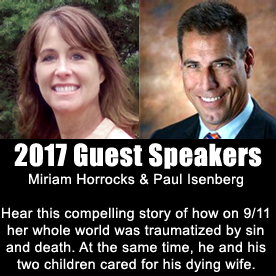 The Six Three Group would like to extend our gratitude to Miriam Horrocks and Paul Isenberg ("Ice" LOL) for sharing their powerful message of love with us on our 2017 Six Three Group Retreat! It is by your example we are brought closer to the calling of our Lord. God bless both of you, your beautiful family and may souls of Michael and Nichole rest in peace. We will keep you all in our prayers.
——————————–
On 9/11 our whole world was traumatized by sin and death. When Michael Horrocks' plane crashed into the second tower, his wife Miriam and her two small children suffered in shock. At the same time Paul and his two children cared for his wife who was dying of cancer. We will listen as Miriam and Paul witness how their faith in Jesus Christ offered them the miracle of hope and healing. Just as Jesus offered hope and healing by raising his friend Lazarus from the tomb of death, Miriam and Paul  experienced the grace of God to help them live and love again.
Read about our 2017 Retreat Director –>
The Six Three Group at Malvern would like to offer a special thank you to Father Joseph Corley, the pastor at B.V.M Parish for leading us spiritually on our 2016 retreat. Father's pleasant nature, whit and kindness is out shined only by his insight and devotion to Jesus Christ and his vocation. The men of Six Three are very thankful for the opportunity to have received the guidance of Fr. Corley as we made our retreat. We encourage all of our members to reflect on the spiritual inspiration he provided and to remember Fr. Corely in our prayers.
Whant to know what Fr. Corley is up to? Visit his website at http://www.bvm-darby.com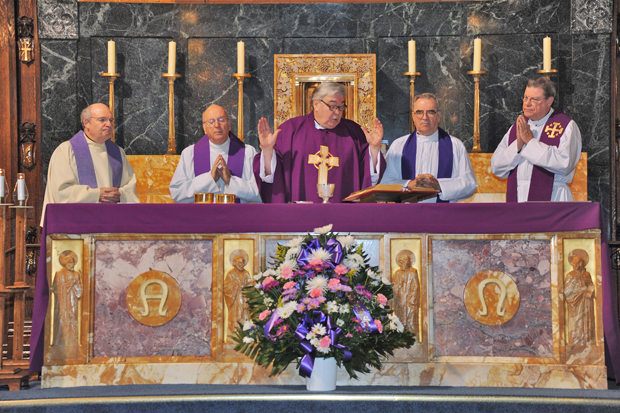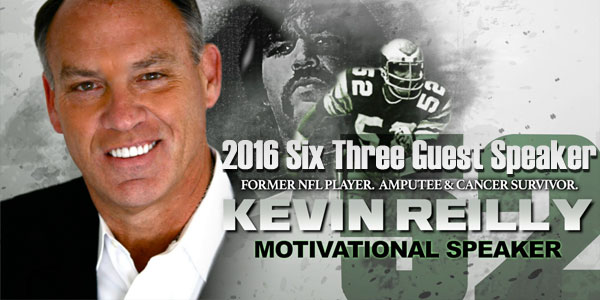 The Six Three Group would like to thank Kevin Reilly for visiting and sharing his life story with us. Many members of the group have contacted us with very positive comments regarding our Saturday afternoon guest speaker. Thank you Kevin for helping to make our 2016 retreat exceptional!
We encourage all Six Three Men to keep Kevin in your hearts and keep his powerful message in your thoughts. Also you can hear Kevin talk sports before and after every Eagles game on the Philadelphia Eagles Network. Click here to LISTEN LIVE!
– Eagles Radio – 94WIP ( 94.1FM) 1pm Game:
– Countdown to Kickoff Show – 10AM – 11AM
– Eagles Pre-Game Show – 11AM – 1PM
– Eagles Post Game Show – Follows game – 6PM
– Eagles 5th Quarter – 6PM – 7PM
We also encourage you to support his efforts by referring Kevin Reilly to speak to other groups with whom you are associated, so that they may witness the power of the Holy Spirit as we did on retreat this year. Visit Kevin's website for details.

Welcome Pope Francis!
by: Two Knight Show (aka. John Harris & Chris Sidoti)
In anticipation of the Pope's visit to our area later this month, please listen to the song "The Argentinian (Good Francis)" we posted on our songs page by our friends Two Knight Show (aka John Harris and Chris Sidoti)!  We hope you enjoy the song and will share it with your friends and family!
Read more
You may recall a couple years ago when a fellow Six Three Man, Joe McAvoy , wrote and recorded a spiritually inspired Christmas tune to remind us to keep Christ in Christmas. Joe circulated his work around the internet to help raise money for the families of victims involved in the Sandy Hook shooting in New England.
We thought it would be nice to repost Joe's song to remind us again of the true meaning of Christmas.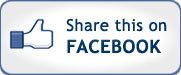 Please enjoy the music and consider doing something special for a neighbor in need this season. Then share this link on facebook.
by Joe McAvoy (Germany Hill)
Gentlemen,
Our 2014 C.A. Captain Dr. Stephen Humbert asked us to share with you some final personal thoughts regarding our 2014 retreat. But before we do that, the Six Three Executive would like to thank Dr. Humbert for sharing with us his special brand of motivation and heartfelt devotion to the Six Three Group. Dr. Humbert and his family are living proof of the impact that one man can have on the lives of his family (8 currently active Humbert's in Six Three).
…one more thing…it's not too early or too late to register for our next Retreat!
Register Now for Six Three Retreat
Here is Dr. Humbert's hand written comment: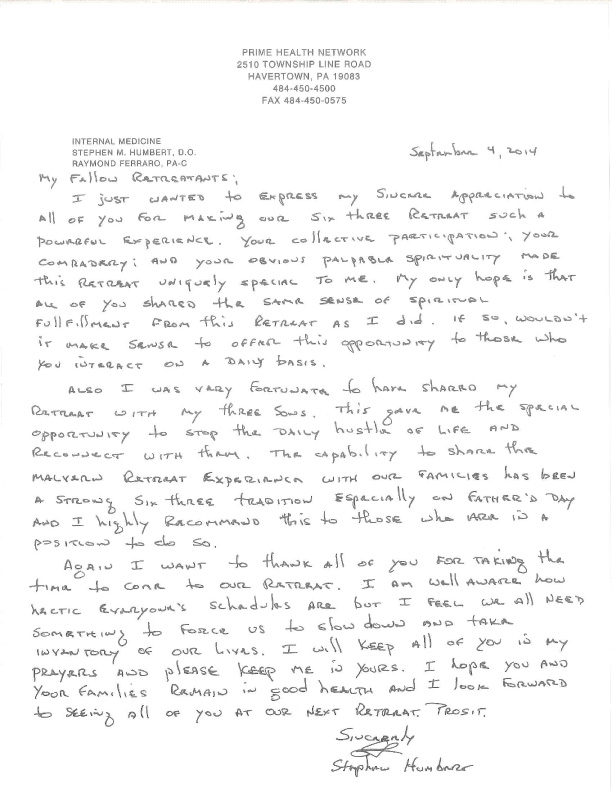 …one more thing…it's not too early or too late to register for next Retreat!
Register Now for Six Three Retreat
If you find it difficult to pray, you might simply imagine God speaking to you. His words might sound something like this:
You don't have to be clever to please me; all you have to do is want to love me. Just speak to me as you would to anyone of whom you are very fond.
Are there people you want to pray for? Tell me their names, and ask as much as you like. Trust me to do what I know best.
Is there anything you want for your soul? Tell me if you feel guilty about anything. I will forgive you, but you have to accept my forgiveness.
Tell me about your self–centeredness, and your laziness. I love you in spite of your faults. Do not hesitate to ask me for blessings for mind and body. I can give everything you need for a happier, holier life.
Are you afraid of anything? Trust yourself to me. I am here. I see everything. I will never leave you.
Have you any joys to share with me? What has happened recently to cheer and comfort you?
Are temptations bearing heavily upon you? Yielding to them always disturbs the peace of your soul. Ask me, and I will help you to overcome them.
Well, go along now. Come back to me soon. Tomorrow I shall have more blessings for you.
This was presented by Fr. Michael Shea, C.M. the Associate Director of The Central Association of the Miraculous Medal during our 2014 retreat. Fr. invites everyone to visit the Miraculous Medal Shrine at 500 E. Chelton Avenue in Philadelphia and to visit the association's website to learn more about the Miraculous Medal.
Visit: The Central Association of the Miraculous Medal website at www.cammonline.org