Special Thanks To Kevin Reilly!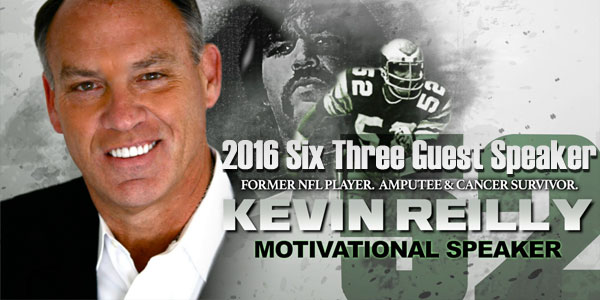 The Six Three Group would like to thank Kevin Reilly for visiting and sharing his life story with us. Many members of the group have contacted us with very positive comments regarding our Saturday afternoon guest speaker. Thank you Kevin for helping to make our 2016 retreat exceptional!
We encourage all Six Three Men to keep Kevin in your hearts and keep his powerful message in your thoughts. Also you can hear Kevin talk sports before and after every Eagles game on the Philadelphia Eagles Network. Click here to LISTEN LIVE!
– Eagles Radio – 94WIP ( 94.1FM) 1pm Game:
– Countdown to Kickoff Show – 10AM – 11AM
– Eagles Pre-Game Show – 11AM – 1PM
– Eagles Post Game Show – Follows game – 6PM
– Eagles 5th Quarter – 6PM – 7PM
We also encourage you to support his efforts by referring Kevin Reilly to speak to other groups with whom you are associated, so that they may witness the power of the Holy Spirit as we did on retreat this year. Visit Kevin's website for details.
Kevin speaks from the heart and uses his own life as a lesson on how all of us can prevail from bad luck, adversity and pain to find the very best in ourselves. His ability to motivate any kind of group – from school kids to employees of Fortune 500 companies – is enhanced by his gift of tackling an audience and not letting go.
Kevin Reilly's story isn't merely about survival. It's a tale of overcoming great adversities to become a true champion. Many well-meaning people were quick to point out what Kevin couldn't do after cancer surgery left him without his arm, five ribs and a large portion of his left shoulder.??Fortunately, Kevin Reilly ignored those well-meaning people. He went on to do things that make you marvel at the strength of the human will when confronted with a life-threatening — and life-altering — challenge. When a human being is forced to come to terms with a serious disability, the victories frequently happen during those dark hours in the middle of the night when no fans will cheer for you and your toghest adversary is yourself.
Kevin Reilly was born in Wilmington, Delaware. From early in his childhood he was an exceptional athlete. Upon entering Salesianum School, Kevin played both football and basketball. A born leader and strong motivating force on and off the playing field, it was not surprising that he was chosen to be captain of the varsity football and basketball teams.??College?His natural leadership skills and athletic abilities secured him a full athletic scholarship to Villanova University. Kevin joins other notable Villanova alumni as close friend and NFL great Howie Long and current Philadelphia Eagles All Pro running back Brian Westbrook. While at Villanova, Kevin was voted the team's MVP and first team All-East linebacker
Kevin joined the NFL in 1973 when he was drafted in the seventh round by the World Champion Miami Dolphins. Later that year, Kevin returned to his Wilmington, Delaware home and joined the Philadelphia Eagles, serving as captain of the special teams.
Kevin's NFL career was cut short in 1975 when he was diagnosed with a rare desmoid tumor. To halt the spread of cancer, Kevin's left arm and a large portion of his shoulder were amputated along with five ribs. During his career in the NFL, Kevin played for NFL coaching great Don Shula while with the Miami Dolphins and Dick LeBeau, current Pittsburgh Steelers defensive coordinator. Kevin also played with NFL greats Bill Bergey, Garo Yepremian, Harold Carmichael, and Larry Csonka.??Life after football?Kevin was a senior executive in sales and marketing at the Xerox Corporation for over 30 years. While at Xerox, Kevin spent two years as the employee development manager which encompassed training new and current employees in sales skills, quality training, diversity training, and sexual harassment prevention. Kevin is also a qualified peer visitor at the Walter Reed National Army Medical Center in Washington, D.C. which allows him to provide counseling to amputees. Kevin is also a member of three hall of fames including Salesianum High School, Villanova University, and Delaware Sports Museum and Hall of Fame.??Kevin is also a radio announcer for the Philadelphia Eagles on WYSP and WDEL. Kevin never gave up sports altogether, he is an avid runner and golfer, two of the many things people told him would be impossible after his surgery. In addition, Kevin is a board member with the Easter Seals nonprofit charitable organization. Kevin lends his talents to numerous charities and auctioneers over a dozen auctions each year for various charities. Kevin has been able to overcome the adversity in his life and now works as a motivational speaker delivering his inspirational message to corporate functions, commencement ceremonies, fundraisers, and roasts.??Kevin Speaks To All Audiences:?Sales & Marketing Meetings?High School/University Commencements?Corporate Functions?Youth Groups?Awards & Recognition Events?Fundraisers?Community Organizations & Events?Roasts