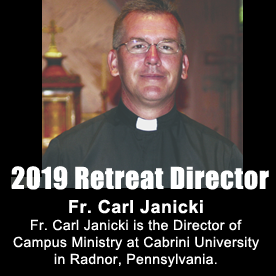 Fr. Carl Janicki is the Director of Campus Ministry at Cabrini University in Radnor, Pennsylvania. A priest for more than 20 years, he has also worked in ministry at Cardinal Dougherty High School. He served that community for 12 years as Campus Minister, then President, before moving on to his current position at Cabrini. Fr. Janicki represented Cabrini during the 2015 Papal visit to Philadelphia for the World Meeting of Families, at which he served in Media Relations, and provided "color" commentary during the Pope's Closing Mass on the Parkway for CBS 3, Philadelphia.
Learn about our 2019 Guest Speaker Kevin Reilly >>
Due to an unfortunate schedule change Mr. Klecko was forced to cancel his speaking engagement for our 2019 Six Three Group retreat. We have secured an old friend of Six Three, Former Philadelphia Eagle, Kevin Reilly who is fresh off the release of his 2017 book "Tackling Life". Kevin spoke at our 2016 retreat and will come with a fresh new look at his spiritual journey that includes discussion about his most recent successes and relationships. READ MORE about Kevin Reilly.
Fr. Matt's sermon this week reflects on the virtue of patience and its role as the foundation of love during advent.
Fr. Matt's sermon this week reflects on beauty and sacrifice of marriage.
Father Matt Guckin reflects on the true meaning of a few special days. How we sometime lose focus on the "why" of certain Holidays.
Father Matt Guckin discusses accepting and embracing the empty tomb.
Father Matt gives insight into the word of John the Baptist.
Father gives his guidance on our calling from Jesus.
This week Father discusses how Paul explains the beauty of God; that Jesus reveals to us a beautiful God through a humble human existence and ultimately through the Crucifixion. Our God is a giving God.
SEPTEMBER 17, 2017
ALLELUIA
I give you a new commandment, says the Lord:
Love one another as I have loved you.
ALLELUIA
A reading from the holy Gospel according to St. Matthew 18: 21-35
… Lord, if my brother sins against me, how often must I forgive?