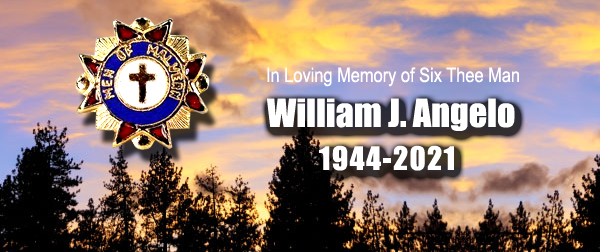 It is with great sadness that we inform you about the passing of our friend Bill Angelo.
Bill was a Six-Three man, 54 year reteatant at Malvern and father of fellow Six-Three member Mark Angelo.
Bill had been suffering over the last couple years with physical ailments that prevented him from attending retreat. Anyone who knew Bill understands how particularly troubling this must have been for him as Malvern and his SixThree retreat were of paramount importance in his life.
Bill was an intensely spiritual man with a notably jovial spirit who made the long trek each year from Minersville, PA to Malvern to make his retreat. With intense dedication, Bill served our group as "chief registration coordinator", a task that he did not take lightly. It was important to Bill that he contribute to the Malvern tradition that had been an integral part of his life for decades.
Bill Angelo was indeed a fixture at our annual SixThree Retreat and will be greatly missed by all. We ask you to keep Bill and his family, in your prayers.
Arrangements will be announced by the Donald J. Butler Funeral Home, Minersville. https://www.donaldjbutlerfh.com/listings
God Bless….Prosit,
Six Three Group
Executive Committee Members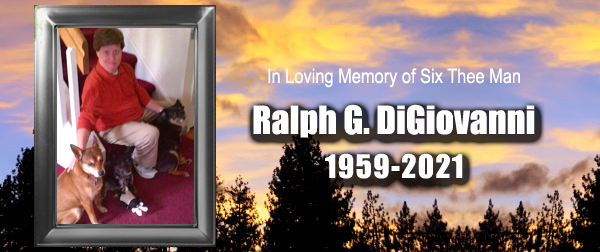 It is with great sadness that we inform you about the passing of our friend Ralph G. DiGiovanni. We ask you to keep Ralph and his family, in your prayers.
Ralph is a Six-Three man, 38 year reteatant at Malvern and brother of Six-Three Executive Committee member and former CA Captain Mark DiGiovanni. In 2019 Ralph served as Honorary CA Captain and has been a special friend to many Six Three men over the years.
Ralph has been suffering over the last couple years with progressive cognitive loss and was recently transported to hospice care. Sadly, we received word that he passed quietly last night, Wednesday, February 3, 2021,  shortly before midnight. We ask that his friends and fellow Six-Three men keep Ralph and the entire DiGiovanni family in your prayers during this difficult time.
Services for Ralph will consist only of a Funeral mass to be held at St. Mary Magdalen Church, 2400 N. Providence Rd., Media, Pennsylvania 19063 on Monday, February 8th at 11:00am.
This service will also be available via live stream from St. Mary's website: https://www.stmarymagdalen.net/live-stream
God Bless….Prosit,
Six Three Group
Executive Committee Members
Fr. Matt's sermon this week is on reflects on times in the church's history when people chose to leave.
Fr. Matt's sermon this week is on the sin of gluttony this week.  Gluttony is the most tolerated sin there is.
Father Matt Guckin reflects on St. Paul and how reflecting on our limitations is useful in bringing us closer to God.
Father Matt Guckin discusses prayer and the Novina for the nine days from The Ascension to Pentecost.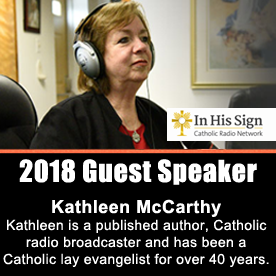 Kathleen McCarthy is a published author, Catholic radio broadcaster and has been a Catholic lay evangelist for almost 40 years. Her message of the Father's merciful love, the Real Presence in the Holy Eucharist, and the power of the Holy Spirit are central to the doctrines of the Catholic Church.
Kathleen has traveled across the country and internationally as a sought after conference speaker and facilitates workshops, days of renewal and parish retreats. Kathleen has been involved in healing ministry for over four decades. She has the gift of storytelling that readily touches the hearts of all individuals. Her willingness to share her faith and wisdom has established her as a dynamic instrument for proclaiming God's word to both believers and inactive Catholics of all ages.
Kathleen has experienced the death of a husband, loss of a house through fire, personal and family illness and loss. Through it all, her uncompromising love of God and faith in His love for her has been her source of strength in weakness and her light in darkness. She is a gifted speaker who shares with enthusiasm and motivates many hearts to experience the living God.
Read about our 2018 Retreat Director –>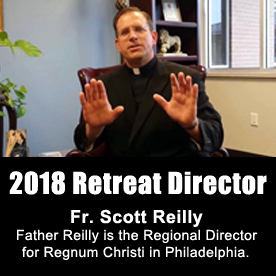 FATHER SCOTT REILLY, LEGIONARY OF CHRIST, REGIONAL DIRECTOR PHILADELPHIA
?Fr Scott is from Kankakee, IL but later moved to St. Petersburg, FL. He has two sisters and one brother, who is a priest as well in the Legionaries of Christ. In 1983 he joined Immaculate Conception Apostolic School of the Legionaries of Christ located in Center Harbor, NH graduating in 1984. He has studied abroad in Salamanca, Spain for 2 years and in Rome, Italy where he earned a Bachelors in Philosophy from the University of St. Thomas Aquinas and Theology with the Legionaries Christ. He was ordained to the priesthood on December 24, 1997 and served as chaplain at Pinecrest Catholic Academy Cumming, GA from 1997-1999. From 1999-2005 he served as chaplain at St. Pius X Catholic High School in Atlanta, GA. Between 2005-2010 he served as Territorial Director for the Legionaries in the USA. From 2010-2015 he served in Houston as superior for the Legionary community and held different responsibilities: 2010-2013 President of the Board for Northwoods Catholic School, 2013-2014 he served as President for Northwoods Catholic School, 2014-2015 chaplain for Regnum Christi in Houston. Presently he is the Regnum Christi Local Director chaplain to the Regnum Christi Movement in the Philadelphia locality. He enjoys, golf, tennis, hiking, working out and reading. Scott Reilly LC Bio here along with contact information.
Read about our 2018 Guest Speaker Kathleen McCarthy –>
Listen To Father Scott Reilly on Soundcloud
Dear Six-Three Group Members,
I am extremely honored to be the C.A. Captain for our Six-Three Group this year. It is difficult to believe that we are in the month of March already. I hope everyone had a warm and cozy winter. as the weather patterns move toward spring temperatures it is now time to focus on preparing for the 2018 retreat as your C.A Captain.
The first order of business is to inform you of some upcoming events. Following tradition, our retreat will be on Father's Day weekend starting on:
Friday JUNE 15, 2018 through Sunday JUNE 17, 2018
You are vital to the success of the Six-Three Annual Retreat. That being said, I'd like to invite you to join me at our Annual Organizational Dinner as we fine tune our recruiting efforts in preparation for this year's retreat as well as future years.
The information for the dinner is as follows:
DATE: Thursday, March 31, 2016
MASS: 6:00 PM – St. Joe's Chapel
DINNER: 6:45 PM – Main Dining Hall
MEETING: 7:45 PM – Main Dining Hall
If you are unavailable to attend our meeting, please send one of your men in your place.
I would also like to encourage you to take the first step in your annual recruiting effort and register right now for this year's retreat. Then invite your men to do the same. Our one-step registration process is the easiest way to get you and your men registered. Register today!
Prosit!
Hank Matteo
C.A. Captain 2018/Six-Three Group
Father Matt Guckin discusses How To Go To Confession