TWENTY FOURTH SUNDAY IN ORDINARY TIME
SEPTEMBER 17, 2017
ALLELUIA
I give you a new commandment, says the Lord:
Love one another as I have loved you.
ALLELUIA
A reading from the holy Gospel according to St. Matthew 18: 21-35
… Lord, if my brother sins against me, how often must I forgive?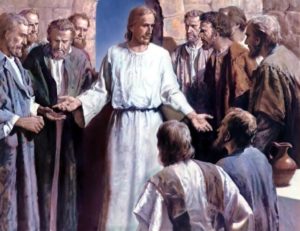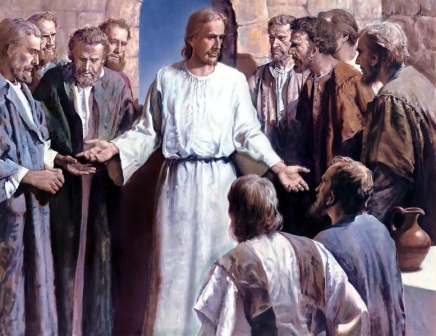 Peter approached Jesus and asked him, "Lord, if my brother sins against me, how often must I forgive? As many as seven times?"
Jesus answered, "I say to you, not seven times but seventy-seven times. That is why the kingdom of heaven may be likened to a king who decided to settle accounts with his servants. When he began the accounting, a debtor was brought before him who owed him a huge amount. Since he had no way of paying it back, his master ordered him to be sold, along with his wife, his children, and all his property, in payment of the debt. At that, the servant fell down, did him homage, and said, 'Be patient with me, and I will pay you back in full.' Moved with compassion the master of that servant let him go and forgave him the loan.
When that servant had left, he found one of his fellow servants who owed him a much smaller amount. He seized him and started to choke him, demanding, 'Pay back what you owe.' Falling to his knees, his fellow servant begged him, 'Be patient with me, and I will pay you back.' But he refused. Instead, he had the fellow servant put in prison until he paid back the debt. Now when his fellow servants saw what had happened, they were deeply disturbed, and went to their master and reported the whole affair. His master summoned him and said to him, 'You wicked servant! I forgave you your entire debt because you begged me to. Should you not have had pity on your fellow servant, as I had pity on you?' Then in anger his master handed him over to the torturers until he should pay back the whole debt. So will my heavenly Father do to you, unless each of you forgives your brother from your heart."
The Gospel of the Lord
REFLECTION PROVIDED BY MONSIGNOR JOSEPH MARINO
This week we continue our reflection on the eighteenth chapter of Saint Matthew's Gospel. This chapter is referred to by biblical scholars as the Discourse on the Church. This Teaching centers on the way that the members of the Church are to relate to one another.
This portion of the Gospel encourages the members to model themselves after Christ who did not cling to His rightful high position but became the servant of all. In like manner, disciples are not to seek importance but to humbly place the needs of others before their own. In addition, disciples do not cause others to sin, but instead recognizes their responsibility to assist others in the ways of Christ. Last week we were taught the ways of Christian fraternal correction and the divine expectation that we diligently work to promote unity and peace within the community by reaching out to those who wander.
So in a sense, the question to Jesus by Peter not only fits logically within the context of this portion of the Gospel, but most likely is the question in the minds of most of us, namely, Lord, if my brother sins against me, how often must I forgive?
We have all encountered individuals who repeatedly injure others by their speech and actions. When we are hurt over and over again, is it not justifiable that we would react with anger, and ultimately stop forgiving? How often have we said something like: how much can any one person take!
The Gospels present Peter as a straight forward, pragmatic individual who did not raise merely theoretical questions. Peter's question, more likely than not, was rooted in real-life situations that made Peter exasperated and angry. So, the frustration so often in our own minds and hearts, finds expression in the passionately-charged words of Peter.
This Sunday's Gospel cuts to the very heart of the mission of Jesus Christ and God's plan of Salvation: forgiveness and reconciliation. Truly, God's ways are not the ways of humanity. While our human condition often looks forward to settling the score, and at times even enjoys revenge, God is moved with compassion, and He lets us go and forgives our indebtedness. Jesus reveals to us the true nature of God: the Father is a God of mercy and forgiveness. Today's Responsorial Psalm 103 so well describes our God:
He pardons all your iniquities, and heals all your ills, He redeems your life from the destruction, He crowns you with kindness and compassion. Merciful and gracious is the Lord, slow to anger, abounding in mercy. He will not always chide, nor does He keep His wrath forever. Not according to our sins does He deal with us, nor does He requite us as according to our crimes. For as the heavens are high above the earth, so surpassing is His kindness toward those who fear Him. As far as the east is from the west, so far has He put our transgressions from us. As a father has compassion on his children, so the Lord has compassion on those who fear Him.
Therefore, we are to forgive as God forgives; we are to forgive without limit — not seven times but seventy-seven times. God is not like the unmerciful servant, and therefore neither should we be. The Father expects us to imitate Him in His mercy – forgive your brother from your heart. If we do not, we risk receiving the punishment given to unmerciful servants … So will my heavenly Father do to you, unless each of you forgives your brother from your heart.
ENCOUNTERING THE DIVINE PHYSICIAN, JESUS CHRIST HEALING OF THE PARALYTIC (LUKE 5: 17-26)
Consider joining the Men and Women of Malvern by deepening your personal relationship with Jesus and your commitment as a disciple through a weekend retreat. Register to join us on our 2018 Six Three Retreat on June 15 – 18, 2018
or visit MalvernRetreat.com for a list of ALL retreat at Malvern Retreat House.