2017 Guest Speakers – Thank You Miriam Horrocks & Paul Isenberg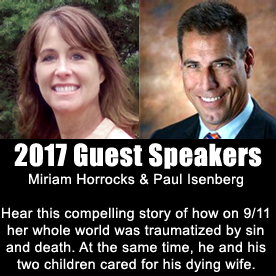 The Six Three Group would like to extend our gratitude to Miriam Horrocks and Paul Isenberg ("Ice" LOL) for sharing their powerful message of love with us on our 2017 Six Three Group Retreat! It is by your example we are brought closer to the calling of our Lord. God bless both of you, your beautiful family and may souls of Michael and Nichole rest in peace. We will keep you all in our prayers.
——————————–
On 9/11 our whole world was traumatized by sin and death. When Michael Horrocks' plane crashed into the second tower, his wife Miriam and her two small children suffered in shock. At the same time Paul and his two children cared for his wife who was dying of cancer. We will listen as Miriam and Paul witness how their faith in Jesus Christ offered them the miracle of hope and healing. Just as Jesus offered hope and healing by raising his friend Lazarus from the tomb of death, Miriam and Paul  experienced the grace of God to help them live and love again.