2013 Communion Mass & Luncheon
Six-Three Men please join us at this year's communion Mass and Luncheon. Our very own Joe O'Donnell is scheduled to be honored with the presentation of the St. Joseph the Worker Medal in recognition of his life-long committment and dedicated leadership to the advancement of the retreat apostolate at Malvern.
We invite you to join us for our Eucharistic Celebration and Luncheon with the Men and Women of Malvern.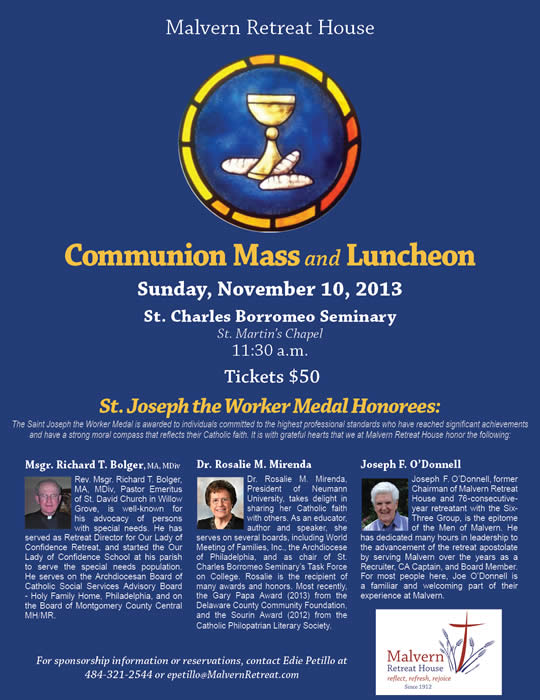 Highlights:
 The Installation of our New Retreat Captains:
Armando Moral                   Ss. Peter & Paul Group
Denis Reilly                          PECO-Good Shepherd Group
Joseph Pagano                     Sons of Italy Group
Michael McCarthy               Most Blessed Sacrament Group
Dr. Stephen Humbert         Six-Three Group
Dr. Russell & Gina Montalbano               Our Lady of the Rosary Family Group
Robert E. Casper                  Our Lady Queen of Peace Group
Andrew Bryan Woratyla     L.J. Ferdinand – Hazleton Group
Marguerite D. DiLolle         Our Lady of Peace Group
Philip Nicolo                         Our Lady of the Sacred Heart Group
St. Joseph the Worker Medal Honorees:
We honor three recipients of our St. Joseph the Worker Medal for their spiritual guidance, professional accomplishments, and continued loyalty to Malvern Retreat House and the community:
Msgr. Richard T. Bolger, MA, MDiv
Pastor Emeritus of St. David Church in Willow Grove
Dr. Rosalie M. Mirenda
President of Neumann University
Joseph F. O'Donnell
Joseph F. O'Donnell, former Chairman of Malvern Retreat House and 76-consecutive-year retreatant with the Six-Three Group
Cost: $50 per person
 Sponsorship opportunities are also available!
Click here to view this event's flyer.
To make your reservations and/or provide sponsorship opportunities, contact Edie Petillo at 484-321-2544 or at
EPetillo@MalvernRetreat.com
.