Gospel Reflection: Twentieth Sunday in Ordinary Time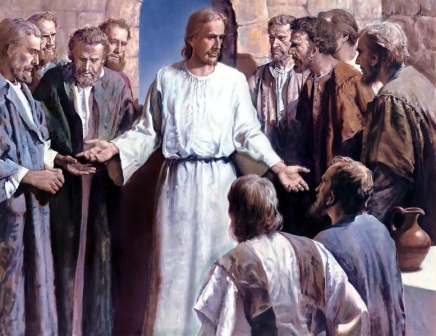 TWENTIETH SUNDAY IN ORDINARY TIME, AUGUST 14, 2016.  Alleluia, Alleluia. My sheep hear my voice, says the Lord I know them, and they follow me! Alleluia, Alleluia. The holy Gospel according to Saint Luke 12: 49-53 .. Jesus said to his disciples: "I have come to set the earth on fire, and how I wish it were already blazing!
There is a baptism with which I must be baptized, and how great is my anguish until it is accomplished!
Do you think that I have come to establish peace on the earth? No, I tell you, but rather division. From now on a household of five will be divided, three against two and two against three; a father will be divided against his son and a son against his father, a mother against her daughter and a daughter against her mother, a mother-in-law against her daughter-in-law and a daughter-in-law against her mother-in-law."
The Gospel of the Lord
REFLECTION
On hearing today's Gospel, it would be very understandable that most people's attention would be drawn to the last few sentences and completely over-look the first two significant statements of Christ. Many families, parents and grandparents will hear this Gospel and immediately become upset and concerned for their children who appear to have drifted away from the faith of their youth. The distractions and enticements of the world have drawn many into life styles and beliefs that are contrary to Christ and the Gospel, and this disturbs all of us who want eternal life for all those we love.
As it often does, God's Word identifies the life-deciding choices that one must make and the possible implications of those choices. Today's Gospel is powerful and pointed, and can be very disturbing and upsetting. Who would want: a household of five…divided; a father… divided against his son; a daughter against her mother!
And yet, ordinary earthly decisions that parents make could so upset their children that the children would be angry with their parents; and vice versa. When these decisions of parents and children have to do with faith in Christ and His Church, feelings and perspectives are raised to a higher level of intensity – anger develops and separation between people occurs. Jesus does not pass over the realities of His call to discipleship. Jesus identifies what the repercussions of faith and surrender to Him can entail. In a real sense, this Sunday's Gospel is the result of the natural progression of thought that we have been exposed to in the last few Sundays. Choosing Christ is to be above all other things: money, possessions and even others. Nothing is to keep us from complete and total incorporation into the life and mission of Christ! And, commitment to Christ can be, and often is, filled with challenges and conflicts! A disciple must stay rooted in Jesus Christ and live daily by priorities that exhibit this commitment.
In order to gain the full meaning of today's message, we must return to the first two statements of Christ that initiated the Gospel proclamation. Jesus states: I have come to set the earth on fire; and, there is a baptism with which I must be baptized! In the Scriptures, fire indicates the presence of God, and can mean: judgement, but also purification. Christ desires to purify the world and all its inhabitants with his cleansing and healing power. God does not desire destruction or death: As I live, declares the Lord God, I take no pleasure in the death of the wicked, but rather that the wicked turn from his way and live (Ezekiel 33:11). In other words, we know from the lips of God that God is determined to keep seeking out the stray and the lost. Jesus was sent by the Father to brings all the Father's children back to Him.
The baptism that Jesus refers to is His passion and death – a death Jesus willingly embraces to bring about the salvation of the world. The death of Christ brings about the purification of humanity from their alienation from God. The death of Christ releases the fire of the Holy Spirit – the purifying presence of God. The Holy Spirit perpetuates the mission of Christ to purify and heal the world through the disciples of Christ.
Therefore, while there are consequences to decisions of faith and commitment to Christ, disciples (families, parents and grandparents) remain hopeful and confident in the redeeming power of Christ, and the working of the Holy Spirit. The church (all of us) never tires of praying for all people to return and/or deepen their commitment to Christ; and, the mission of all disciples is to continue to reach out, invite, and guide all into the loving embrace of Christ! Amen!
WE BELIEVE, AND THEREFORE SPEAK (2 Corinthians 4:13)
Consider joining the Men and Women of Malvern by deepening your personal relationship with Jesus and your commitment as a disciple through a weekend retreat. See our Web Site for details: MalvernRetreat.com