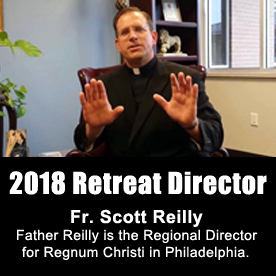 FATHER SCOTT REILLY, LEGIONARY OF CHRIST, REGIONAL DIRECTOR PHILADELPHIA
?Fr Scott is from Kankakee, IL but later moved to St. Petersburg, FL. He has two sisters and one brother, who is a priest as well in the Legionaries of Christ. In 1983 he joined Immaculate Conception Apostolic School of the Legionaries of Christ located in Center Harbor, NH graduating in 1984. He has studied abroad in Salamanca, Spain for 2 years and in Rome, Italy where he earned a Bachelors in Philosophy from the University of St. Thomas Aquinas and Theology with the Legionaries Christ. He was ordained to the priesthood on December 24, 1997 and served as chaplain at Pinecrest Catholic Academy Cumming, GA from 1997-1999. From 1999-2005 he served as chaplain at St. Pius X Catholic High School in Atlanta, GA. Between 2005-2010 he served as Territorial Director for the Legionaries in the USA. From 2010-2015 he served in Houston as superior for the Legionary community and held different responsibilities: 2010-2013 President of the Board for Northwoods Catholic School, 2013-2014 he served as President for Northwoods Catholic School, 2014-2015 chaplain for Regnum Christi in Houston. Presently he is the Regnum Christi Local Director chaplain to the Regnum Christi Movement in the Philadelphia locality. He enjoys, golf, tennis, hiking, working out and reading. Scott Reilly LC Bio here along with contact information.
Read about our 2018 Guest Speaker Kathleen McCarthy –>
Listen To Father Scott Reilly on Soundcloud
Father Matt Guckin discusses How To Go To Confession
Father Matt Guckin discusses the Ten Commandments. "The Commandments are God's recipe for peace, His vision for our lives."
Father Matt Guckin discusses the value of sharing in a community.
Father Matt how can Job help Eagles fans?
Father Matt gives insight into the word of John the Baptist.
Father gives his guidance on our calling from Jesus.
Gentlemen, we want to share with you the results of our 2017 post-retreat survey. As you know, the Six Three Group has been working hard and leading the way to improve the retreat experience across all Malvern Weekend retreats. Our primary focus in this effort has been on improving the quality of the spiritual guidance and message by inviting high quality retreat directors and special guest speakers. We judging from the survey results below, we think that most will agree that our 2017 retreat was very successful in moving us toward our goals. In particular, the response to Fr. Guckin and Miriam Horrocks and Paul Isenberg was very positive.
Please take a moment to review our 2017 survey results and feel free to leave a comment.
2017 Six Three Group Survey Results
Number of Attendees: 207
Number of Responses: 130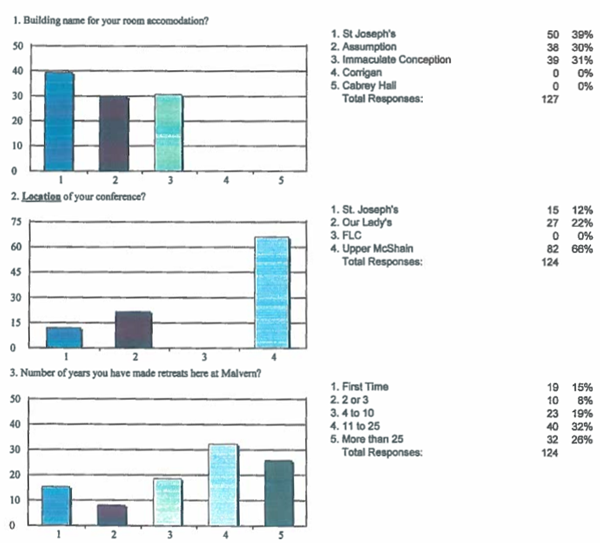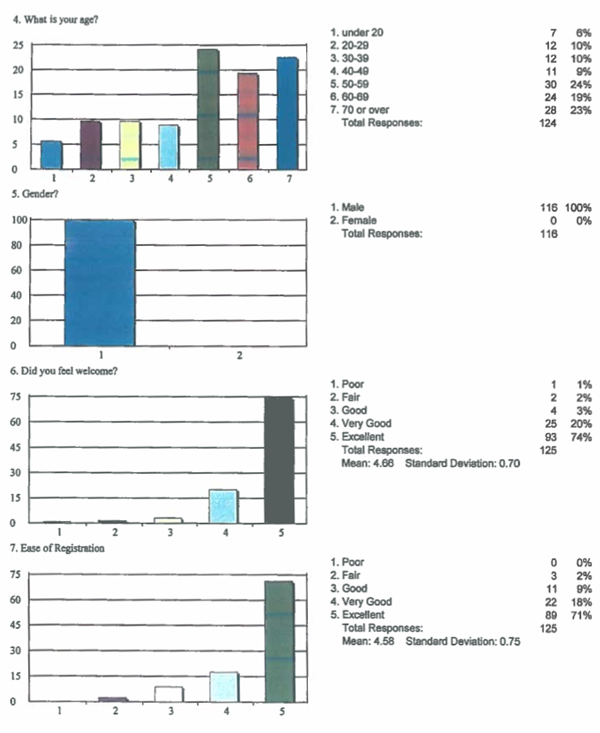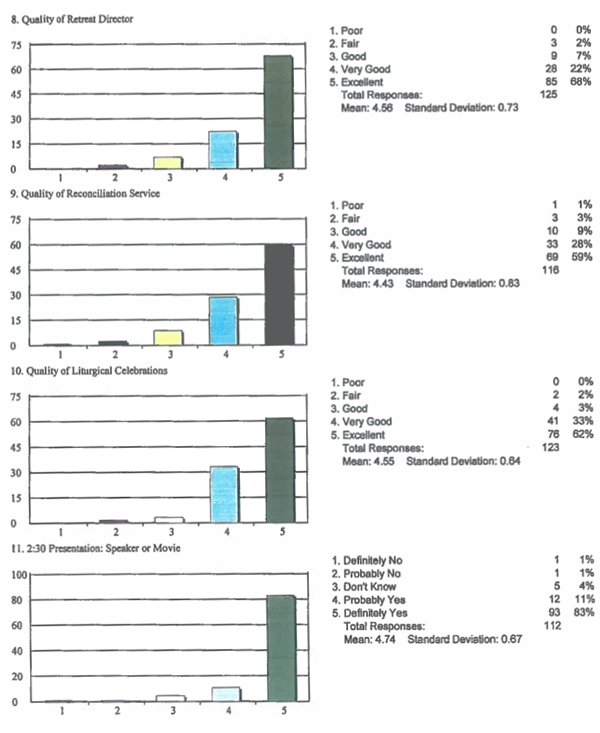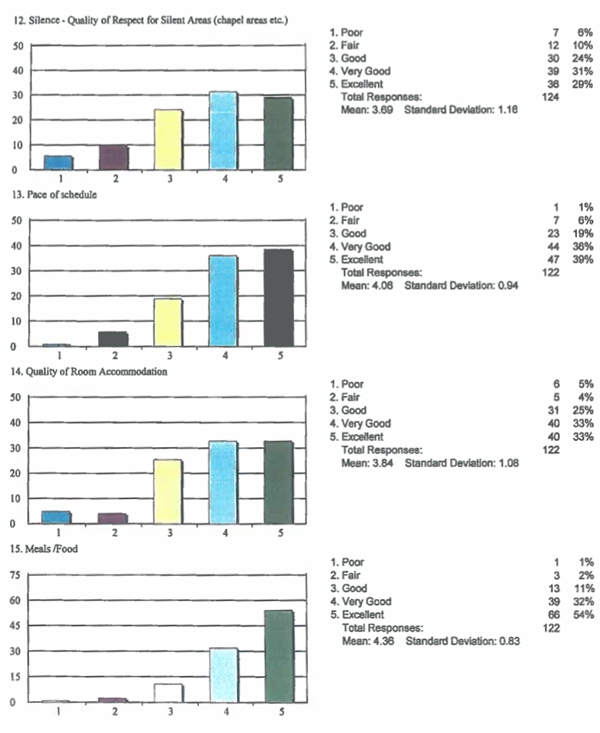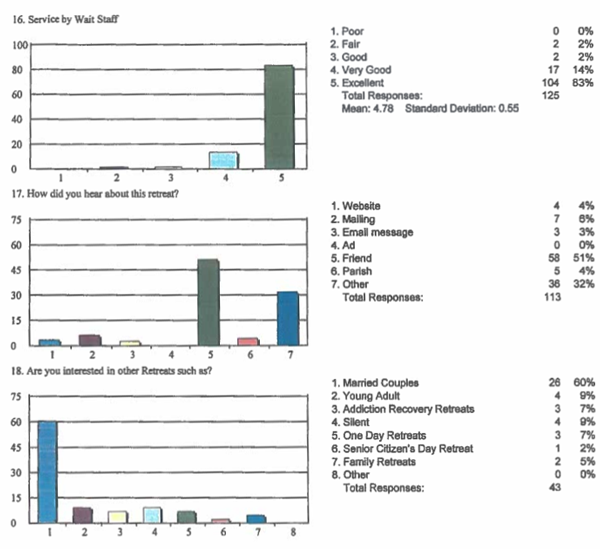 Father Matt ranks very high on our list of awesome Retreat Directors and it was great having him our for our 2017 Six Three Group Retreat. Recently Fr. Matt started a Soundcloud feed so you can get a steady diet for spiritual enlightenment by listening to Father's weekly sermons.
To receive notifications each time Fr. Matt posts a new track, click the follow button below to follow Fr. Matt on your Soundcloud account.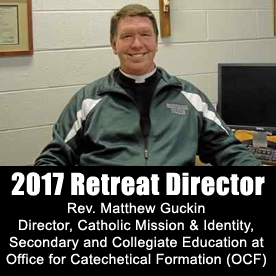 The Six Three Group would like to extend our gratitude for the spiritual guidance and enlightenment provided by Fr. Guckin during our 2017 retreat. Father's willingness to engage the Six Three group throughout the entire weekend was very refreshing. Starting with an inspirational introduction and blessing at our Friday evening meal and extending through to his final homily at Sunday Mass, Father Guckin worked to reinforce the spiritual message of our retreat. Most impressive, and not overlooked, was that Father attended our guest speaker session on Saturday, and tied the message of Paul and Miriam back to our message of living the Abundant Life overflowing with Jesus.
Thank you Father Matt for an outstanding retreat that will remain in our hearts and minds for years to come. God Bless you and we thank the Lord for bringing you to our retreat.
——————————————–
Rev. Matt Guckin is a graduate of Father Judge High School and Penn State University. He worked as a Consultant to the Transportation Industry for Manugistics, Inc., outside of Washington D.C. and in Strategic Planning for Rite Aid Corporation in Camp Hill, PA. He entered the Seminary in 1992 and was ordained a Catholic priest in 1999. He was assistant pastor at St. Cecilia's parish in Philadelphia and chaplain at Fox Chase Cancer Center. He has been an educator and chaplain at Bishop Shanahan High School in Downingtown, Pennsylvania.
He currently serves as Director of Catholic Mission and Identity for Universities and High Schools in the Archdiocese of Philadelphia.
Read about our 2017 Guest Speakers –>